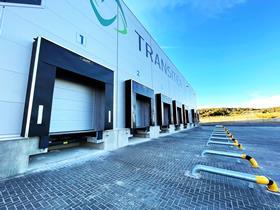 Transitex has announced that it is to complete the construction of its first refrigerated warehouse this month. The Lisbon-based logistics operator, which forms part of Yilport Holding, has invested around €2m euros in the project.
Located within the Elvas Logistics Platform on the border between Portugal and Spain, the new facility will provide integrated services to fruit and vegetable exporters in both countries, as well as handling imports from the Southern Hemisphere.
The 2,257m2 warehouse includes 1,834m2 of coldstorage and is served by seven quay doors. It is certified as a Customs and Tax Cold Warehouse, Export Warehouse, Public Export Warehouse and Border Inspection Post.
"Over the last 20 years, we have created a global customer base that sells the same fruit varieties throughout the 12 months of the year. We take advantage of the harvests in both hemispheres to ensure a constant fruit supply to the market," said Fernando Lima, Transitex's CEO.
"The ports on the Iberian Atlantic coast are the main beneficiaries of this globalisation of the consumption of fresh fruit. The concept of "seasonal fruit" is increasingly difficult to apply, as consumers have the same varieties available throughout the year.
"This dynamic requires the existence of facilities adapted to the needs of the market, providing services as inspection, customs clearance, cross docking, storage, distribution, and all others necessary to complete a cargo import process from countries outside the EU.
"The usual ports of entry for these goods are Lisbon, Sines, Setúbal and Leixões, being the largest consumption centres on the Spanish side. Elvas is ideally located for us to complement the services we already provide to our customers."