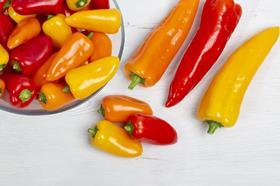 Tribelli, the international extra-sweet coloured pepper brand, has been awarded a Superior Taste Award from the International Taste Institute in Brussels.
The prize was awarded by a jury of prestigious chefs and sommeliers dedicated to judging than 15,000 food and drink products from around the world
Developed by Enza Zaden, Tribelli are available as conventional and organic in a variety of sizes and formats, from mini to XL, in tri-coloured packs of red, orange and yellow peppers.
"Tribelli is much more than a pepper. We seek to create value throughout the entire chain, starting with the farmer, going through the marketers and reaching the final consumer, being a guarantee and trust mark," Enza Zaden said.
"The award for Superior Flavour is another guarantee of the high quality and extreme sweetness of the product."