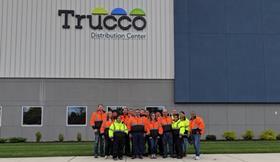 Trucco has opened its first wholly-owned and dedicated kiwifruit facility in Vineland, New Jersey, which will serve as a hub for the company's kiwifruit business.
According to the group, the facility further integrates its supply chain and will have the ability to receive imports, store product, re-pack and manage distribution to retail partners.
"Trucco prides itself on offering the leading produce and the best customer service," says Nick Pacia, president of AJ Trucco. "To best service our partners and support the changing demands of their business, we decided to open our new facility, where we are exclusively focused on kiwifruit, quality, modernisation, and service."
The 70,000ft2 distribution centre is dedicated to receiving, packaging and distributing kiwifruit through its expansive nationwide network.
'To support our commitment to our customers, you can expect consistent, fast service, and immediate response from Trucco, to deliver the highest quality kiwifruit,' Pacia added.
Completed in late 2018, the new distribution centre is highlighted by a modern packing room with several highly automated packing lines, and four cold storage rooms that store over 2,500 pallets combined, each integrated with the latest technology to maintain a proper environment for kiwifruit storage.
The distribution centre also includes a quality control lab, for testing and monitoring the quality of the kiwifruit.

According to Trucco, its significant growth over the last two decades has led to this expansion and is a reflection of the growth occurring in produce, specifically with the kiwifruit segment.
'As the authority on kiwi, with its strong KiwiStar business and important Zespri SunGold distribution partnership, the addition of a dedicated kiwifruit facility is a natural extension for the Trucco business.' the group stated. 'Trucco looks forward to building and maintaining productive relationships in the industry, with the new distribution centre and addition to their already collaborative, full-service offering.'