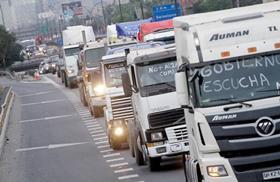 Chilean fruit producers and exporters have voiced their concerns over a strike by the country's truck drivers, who are calling for better security following a spate of attacks.
The National Confederation of Chilean Cargo Transport (CNTC), one of three umbrella unions for Chile's truckers, began the walkout last Thursday in protest over the government's slow progress in improving safety laws.
In recent months truckers have been subjected to a number of attacks on trucks – some of them violent – in the southern Araucania region where the indigenous Mapuche are protesting against widespread development.
Agriculture Minister Antonio Walker said the stoppage was affecting supplies from two of the country's 16 regions and also disrupting access to the port of San Antonio, one of the most important for fruit exports.
Asoex president Ronald Bown said that "if access to ports continues to be blocked it could cause problems with fruit exports as there are ships that are due to set sail this week", and that a failure by the sector to fulfil its export commitments would result in further damage to the country's economy.
"We hope that the situation will be resolved quickly, so that national and international food supply can resume," he added.
Jorge Valenzuela, president of producer association Fedefruta, described the attacks as "reprehensible" and said those responsible should be arrested and brought to trial as soon as possible.
"We understand the motivations behind the strike, and once again call for the authorities to put in place the security conditions to enable such strategic activities as agriculture and transport to continue under normal conditions," he said.