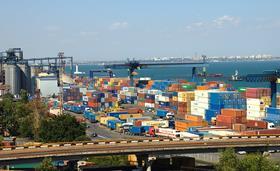 Russia's invasion of Ukraine will have serious repercussions for suppliers and retailers in the region as fears of a protracted armed conflict escalate.
Ecuadorean banana shipments to Eastern Europe are already facing significant disruption following the closure of the port of Odessa – Ukraine's biggest seaport – after a Russian airstrike that reportedly killed 22 people. Reports in the Ecuadorean press said a weekly shipment of around 2.5m boxes of bananas is at risk.
Richard Salazar, executive director of exporter association Acorbanec, said the conflict would undoubtedly affect exports in the coming weeks.
"Together, Russia and Ukraine take around 25 per cent of Ecuador's banana export volume, so the conflict will have a major impact on shipments," he said.
"The depreciation of the ruble following the West's decision to impose economic sanctions on Russia will lead to a big increase in the price of bananas, as well as delays in payments. Salazar said exporters were already seeing the effects of the sanctions, while also having to deal with significant logistical challenges.
Odessa, the main port of entry for Ecuadorean bananas, is inoperative following the attack, resulting in vessels having to find alternative ports.
Shipments already on the water are being diverted to Turkey from where exporters will try to place the fruit in other markets.
"We're still exporting to Russia without problems –for now," Salazar added.
José Antonio Hidalgo, executive director of the Ecuadorian Banana Exporters Association (Aebe), said exports to Georgia and the other countries located in the Black Sea, such as Turkey, Bulgaria, Romania, Ukraine and Russia, are also being affected due to disruptions to shipping services.
He warned that exporters would also face increased shipping rates and insurance payments as a direct result of the conflict.
Acorbanec has called for the Ecuadorean government to introduce compensatory measures to help producers and exporters weather the storm.
Ecuador exported US$697.6m of bananas to Russia and US$79.3m to Ukraine in 2021 according to the Central Bank of Ecuador.
Separately, Oliver Huesmann of fresh produce consultancy Fruit Consulting has warned that the fallout of Russia's attack on Ukraine will be felt by suppliers and supermarkets across Europe in the coming weeks.
"Eastern Europe is a lucrative market for many suppliers and retailers, but this needs stability for sustainable growth," he said.
"Last summer, the Schwarz Group took the risk of appointing a country director for Ukraine, marking a new entry into the last big market. Meanwhile, Lidl planes are no longer flying to Kiev and Odessa: Lidl's new CEO, Kenneth McGrath, had to back down in the face of Russian tanks.
"Metro and Globus cannot withdraw so easily because they are already established in Russia and in the case of Metro, also in Ukraine. They are making good money there, at least so far.
Huesmann warned that future profits would be more dependent on politics than the skills of individual retailers.
"If this conflict lasts longer, we can say that it will have effects on the entire #ruit supply to German, Austrian, Czech, Polish, etc. supermarket chains. because they need to optimise their results through purchase price adjustments from their suppliers, who in turn are suffering increases in production and transportation costs due to skyrocketing energy and fuel prices."