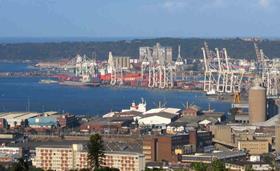 There are finally signs that the situation in South Africa is calming down, although the problems created by unrest and looting are far from over.
South Africa's Citrus Growers Association (CGA) warned that the situation in KwaZulu Natal remains unresolved. At this stage the port facilities cannot be utilised to receive fruit for export, although the government claimed that many major roads have been cleared.
"Recent reports indicate that the N3 linking Gauteng to Durban is now open. However, caution is advised," said CGA chief executive Justin Chadwick.
"This is indeed a dark period in the history of our beloved South Africa,' he continued. 'We rather not go into the grim details or make assessments of the situation. We need to concentrate on what we are doing and what we need to do to ensure we salvage as much of the 2021 season as possible."
There are reports that many growers/shippers/transporters have now dispatched their vehicles to Durban. "The situation in KZN is not resolved and nothing has normalised. We need to open up the citrus trade lanes sequentially because there is still fruit in the coldstores that needs to be cleared and there are many vessels outside Durban Port that still need to discharge and load. This is going to take some time to clear when these facilities begin to operate normally," Chadwick explained.
He emphasised that human lives were the priority and no port terminal, coldstore, container depot or harbour carrier was going to put their staff at risk. "Let me be clear – the KZN security situation is not resolved. There are some operations that have started up, under strict safety conditions."
It was essential that growers and packers made sure that their receiving facilities in KZN had space to receive vehicles on arrival. "Otherwise, you are going to move the problem from packhouse to port – your vehicle is far safer where it is now than in KZN, let me assure you."
He warned that Durban would get congested and growers should not add to that congestion.
"Obviously, we need to clear all fruit already being staged on trucks, and also need to clear what is on the packhouse floor, but please don't compromise further an already severely compromised port precinct,' Chadwick noted.
He also advised that growers should, if possible, stop harvesting for a period of maybe a week or slow down the packing tempo. "We need to work as an industry in this regard – otherwise the port will be completely gridlocked, and it will be our fault."
Container depots remain mostly closed in Durban, while it is likely that exports via Maputo will commence, as well as fruit transiting from the north to Cape Town for export.
The CGA told growers moving fruit to Cape Town to liaise closely with fruit cold store facilities and shipping lines to ensure capacity and equipment is available.
Other reports have said that many transport businesses have been vandalised and trucks burned. Transporters are mostly not able to haul containers due to staff shortages and a security threat.
Durban citrus coldstore facilities remain mostly non-operational. Some coldstores have managed to commence limited operations. All Durban citrus coldstore facilities are however intact, well-guarded and secure.
The CGA said the impact of the unrest has many consequences, and many that are not clear yet.
"We do know that a chemical depot was burnt to the ground. So please check with your supplier and ensure you have the necessary material to prepare the 2022 crop. We know that there may be disruptions in the carton manufacturing side – please check with your supplier."
The CGA says it was working with the Department of Agriculture (DALRRD) and PPECB to ascertain alternative ports for fruit from the north – Maputo and Cape Town. "Although, we need to be careful we do not transfer the problem to Cape Town."