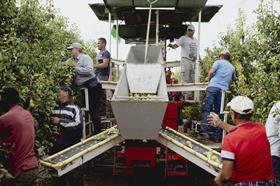 Agricultural union Unió de Pagesos is urging consumers to show their support for Lleida-grown fruit after parts of the province were put into lockdown due to a spike in coronavirus cases.
Inhabitants of the city of Lleida and seven other municipalities are unable to leave the area after government measures imposed last month.
Of the 14 most recent outbreaks in the region, ten have been traced to infections among seasonal fruit pickers.
The area employs 35,000 people a year during the stonefruit and top fruit harvest season, around 80 per cent of which come from overseas.
In a statement, the union said the sector has redoubled its efforts to uphold the strictest safety measures in the field and detect Covid-19 infections among its workers.
Warning that unscrupulous buyers could use the pandemic as an excuse to force down prices, the union has appealed to consumers to "make a conscious purchase of Lleida fruit as a commitment to an essential sector in food production and the economy of many regions".
It points out that the reason why more cases are being detected among agricultural workers is because of the strict controls they are subjected to, and that the sector should therefore not be criminalised.
Instead, it is calling for the government to provide financial support for undocumented workers who are not able to work because of the pandemic.