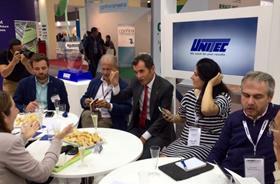 Technology and packaging firm Unitec has created a new division called Unitec Intelligence Packaging in order to provide a dedicated service to the fresh-cut produce business, as well as other dry and ambient grocery lines.
Supplying vertical packaging machinery to the food business, the division aims to expand the fresh produce specialist's sphere of influence to other parts of the food industry, drawing on decades of experience in the grading, sorting and packaging arenas.
Exhibiting at Macfrut 2015, Unitec underlined its continued commitment to boosting sales in the fresh fruit and vegetable sector by providing high-end technologies such as its Ultravision sorting system to clients wanting to improve their reliability when it came to product quality.
"It doesn't matter whether you're dealing with apples, cherries, blueberries, apricots or other fruits," commented Unitec president Angelo Benedetti. "Every fruit has its own peculiarities and its own characteristics, but for us at Unitec the aim is always the same: to develop innovative and personalised technologies that respond to the real needs of the world's fresh produce companies, allowing them to offer products of consistent quality that can secure the confidence of consumers."