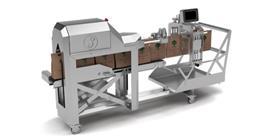 Swedish start-up Urban Oasis has acquired a new, compact packing machine developed by international packaging group for its vertical farming operation in Stockholm.
According to Schur, its SchurStarLight packing machine requires low investment, takes up very little space, and offers "high automation, extreme adaptability, and great flexibility".
It is equipped with a printer for addingproduct data to the bag, such as a lot number. Additionally, the machine can be combined with various weighing and filling equipment, and it can pack products into a large variety of bag formats, sizes,and materials – also in a semi- or fully automatic process.
"We harvest our products exactly when they are at their very best –they go directly to consumers who appreciatefresh produce.," says Johanna öhlén Meschke, CMO of Urban Oasis.
"Therefore, we have chosen a packaging solution that is as logical and uncomplicated as our entire set-up. The SchurStarLight Packing Machine can be moved, operated, and cleaned by one person – and everyone can do it.
"It is compact, it does not take up much space, and it is so easy to move around. This all makes sense here where space is tight."
Vertical farming is based on the idea of growing more food in less space, regardless of weather, wind, and changing seasons.
For Stockholm-based Urban Oasis, the vision is to deliver healthy and sustainable food to people, right where they live.
From its facility far below the city, the company grows organic leafy greens under artificial light, with recycled water, without soil – in a 100 per cent controlled environment.
The vegetables are packed manually into resealable zip-locked CPP bags to maintain freshness and minimise food waste.
The cleaned zipper bag can also be reused for other purposes, and eventually, it can be included in a recycling system, as CPP is a single-layer material that does not require separation.
According to öhlén Meschke, Urban Oasis has thought about sustainability and resource economy at every stage of the process.
"Since we are located in the centre of the city, we avoid long and environmentally harmingtransportation," she says.
"Overall, we aim for a constant and shortest possible supply chain. In addition to contributing to the reduction of food waste, it makes special sense today whenmost people want to know where their food comes from."
According to Schur, more than 500 companies worldwidepackall types of products – includingfruit and vegetables - using its SchurStar Concept. The international company manufactures packaging and packaging machines in factories in Denmark, Sweden, Germany, Australia and the US.
"We take advantage of the knowhow of the entire Schur group and 175 years of experience within packaging to offer the best possible flexible packaging solution to our customers," the company says.