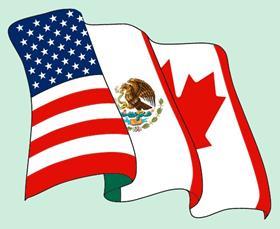 US food and agriculture groups are calling on Members of Congress to swiftly ratify the US-Mexico-Canada Agreement (USMCA).
In a letter sent on Wednesday by the Fresh Produce Association of the Americas (FPAA) and more than 950 groups representing the US food and agriculture value chain at the national, state and local levels, they state that USMCA will benefit the industry while providing consumers with a more abundant supply of high-quality, safe food at affordable prices.
Over the last 25 years, US food and agricultural exports to Canada and Mexico have more than quadrupled under NAFTA – growing from US$9bn in 1993 to nearly US$40bn in 2018, helping to support more than 900,000 American jobs in food and agriculture and related sectors of the economy.
The FPAA said USMCA would build on the success of the NAFTA agreement, further enhance US food and agricultural exports to its neighbours, and deliver an additional US$2.2bn in US economic activity.
"Ratifying the USMCA is an important step in creating stability for the US companies involved in trade," said Lance Jungmeyer, FPAA president. "This translates into increased jobs, economic growth, and direct consumer benefits as well."
The International Trade Commission's recent report on USMCA confirmed that the agreement will improve market access for US farmers, ranchers and food producers, as well as positively impact both the US agriculture sector and the broader national economy.
"One in four American manufacturing jobs are related to agriculture, and USMCA, once implemented, will strengthen the US farm and agriculture economy and further support and secure vital market access for the country's farmers, ranchers, and agri-businesses," FPAA said.