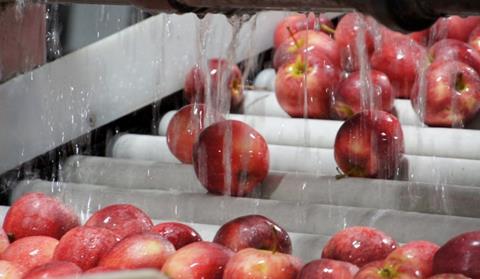 In a significant step forward for trade relations between the two countries, the US and China have announced the signing of a 'phase one' trade deal agreement.
The agreement will see China purchase an additional US$200bn of US farm products over the next two years, with US$50bn of that to be spent on agricultural products.
A so-called trade war between the two nations began in March 2018, when China announced a 15 per cent import duty on US fresh fruit and nuts, in response to US tariffs on Chinese steel and aluminium imports.
What ensued was a series of retaliatory tariffs placed on various imports from both countries, including a wide range of US horticultural products in June 2018.
President of the Northwest Horticultural Council, Mark Powers, said the announcement of a phase one agreement is a step in the right direction.
"No doubt, it's good we have an agreement. We need things to go back to normal as soon as possible," explained Powers.
"The retaliatory tariffs impacted our growers' ability to sell fruit to China, and as a result, it has impacted their returns.
"Apple sales were down 46 per cent and cherry sales down 41 per cent over that two-year time frame, so we need to see things turn around."
It's a sentiment echoed by California Citrus Mutual executive vice president, Casey Creamer.
'We are cautiously optimistic about the Phase One trade deal. We do see it as a step in the right direction and congratulate the administration on getting to this point,' said Creamer.
The California citrus industry has been hard hit during the trade dispute, with Creamer highlighting the additional 50 per cent in tariffs since the dispute began.
'These additional tariffs bring the total tariff faced by the citrus industry to 61 per cent plus a 9 per cent VAT. In addition to the purchases in the phase one deal, we will need to see immediate tariff relief to be competitive again in the Chinese market.'
The terms of how the new agreement will manifest remain uncertain, added Powers.
"It's going to take some time to sort everything out," he outlined.
"The details of how China is going to purchase an extra US$40-50bn is unknown. The ball is very much in China's court, as it's not enshrined in the agreement itself.
"There's no specificity that indicates how it's going to happen and for that reason we don't know how it will benefit our growers."
Powers said it was hard to ascertain how different agricultural products are purchased in China, as it's often independent and private businesses that organise it.
However, he remained adamant the industry would continue to focus on encouraging the growth of US products in the market.
"As an industry, we have invested incredible sums of money into China as a market. It has taken many years of work to develop that market and nobody is prepared to walk away from it," he said.
"The challenge now is figuring out how we can get it back to what it once was. We need to compete with other countries, but in order to do that, we need both tariffs removed. How and when that happens remains to be seen."