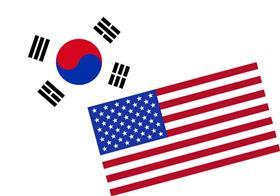 The US House of Representatives and Senate on Wednesday approved a long-awaited free trade pact with Korea that's expected to deliver significant benefits for the country's fresh produce exports.
The House passed the so-called 'KORUS FTA' (South Korea-US Free Trade Agreement) on a vote of 278-151, a sizeable margin, and it swiftly gained the Senate seal of approval later on Wednesday evening.
The vote coincided with the arrival of South Korean president Lee Myung-bak on a state visit to Washington, and he is expected to hold summit talks with US President Barack Obama and make a speech in a joint session of the Senate and the House on Thursday.
Addressing 140 US business leaders at a lunch meeting hosted by the US Chamber of Commerce on Wednesday, President Lee described the FTA as a "win-win deal". With "active efforts" from both countries, he forecast that the FTA - initially signed in 2007 - could expand trade between the two countries by more than 50 per cent by 2015.
The US FTA with Korea would represent the largest US trade pact since the North American Free Trade Agreement (NAFTA) took effect in January 1994.
While it took Congress just six working days to ratify the bill after it was submitted on 3 October, it has taken a lot of time, and legislative wrangling, to reach this stage. The two sides first struck a deal in June 2007 when Bush was in the White House, but the administrations of Lee and Obama held further talks to restructure some aspects of the accord signed by their predecessors, and last year reach a supplementary agreement on the terms of the auto trade.

Long-awaited deal for agriculture groups

KORUS has also been a focus of intense lobbying efforts, not least from US farm and agricultural export groups who are eager to bring down tariffs on their goods that would put them on a more level playing field with competing supplying nations.
Speaking to Fruitnet.com on his way to Washington DC early on Wednesday, James Christie of food and agriculture market access specialist Bryant Christie said that most people in US agriculture were pleased to see the agreement being sent to Capitol Hill.
"Hopefully it `the deal` will be in place soon," said Mr Christie. "Could the agreement be better? Of course it could be but it's a definitive step in the right direct and will help keep US agricultural exports competitive in South Korea with some of our global competitors."

Cautious optimism for California citrus

Korea remains the largest offshore market for California citrus, and last year imported a record volume of 140,000 tonnes between November and June worth some US$151m.

Under the FTA, tariffs on orange imports between 1 March and 31 August – the so-called 'out-of-season' period when Korea's domestic orange production is at a low ebb – will immediately drop from 50 per cent to 30 per cent, before being eliminated over the following six years. According to the USDA FAS, this tariff reduction "benefits an estimated 70 per cent of the current US orange exports to Korea".
Reaction from the California citrus industry to the ratification of the KORUS FTA was positive with regard to the reduction of import duties, but somewhat tempered.
"The out-of-season reductions are great, but we'd still like to see a better deal on oranges for the remainder of the year," said Bob Blakely of California Citrus Mutual.
Between 1 September and 28 February, KORUS FTA US-grown oranges – virtually all of which are from California – are to be taxed at the existing 50 per cent rate, with only a quota of 2,500 tonnes to enter duty free. While that quota is set to increase at a compound rate of 3 per cent in perpetuity, 2,500 tonnes represents less than 2 per cent of the volume shipped to Korea last season.
US-grown lemons and grapefruit have a better deal, and the current 30 per cent tariffs will be phased out over the next two and five years, respectively.
High grape tariff to come down

The KORUS FTA also represents a potential breakthrough for California's table grape industry, which faces in South Korea one of the highest import tariffs among any of its export markets.
"The California Table Grape Commission has been working with the US government for several years in support of the US-South Korea FTA and in an effort to reduce the high tariff for California grapes," said Susan Day, VP of international marketing for the California Table Grape Commission.
Currently, California grapes are subject to a 45 per cent import tariff year-round in Korea, Ms Day noted. When the deal takes effect this will be gradually eliminated over a 17-year period for grapes entering the market between 1 May and 15 October. The tariff on California grape imports between 16 October and 30 April will be immediately cut to 24 per cent and gradually eliminated over a five-year period.
Chilean grapes nevertheless still enjoy a more favourable duty structure under their FTA with Korea between November and April, with a seasonal tariff of 12.4 per cent.
Other key horticulture sectors will see much quicker benefits from the KORUS FTA, however. The pact will erase a 24 per cent tariff on US cherry exports to Korea, which could boost annual sales by up to US$7m, the Northwest Horticulture Council estimates. The tariff on almonds, which currently stands at 8 per cent, will be reduced to zero with immediate effect, as will that for raisins.

Korea yet to ratify FTA

How soon the deal will take effect is a moot point, as the FTA must now pass Korean parliament, which does not look like being a smooth process. Some Korean officials believe this could happen in time for the agreement to take effect as early as January, but that appears to be an optimistic assessment.
While President Lee has urged South Korea's parliament to ratify the deal as soon as possible, Sohn Hak-kyu, leader of the opposition, has called the bill "an unfair contract with too many benefits for the US."
The Democratic Party has urged a renegotiation of the FTA, and revisions to 10 clauses. One of these includes pushing back the date for eliminating tariffs on agriculture and livestock-related products.
But the ruling Grand National Party (GNP) has responded to the swift approval by US Congress – and revealed plans to finally pass the long-disputed bill at a regular National Assembly on 28 October.
While the GNP has a sufficient majority in the unicameral chamber (168 out of 295 seats) to pass the bill unilaterally, South Korean lawmakers traditionally seek to forge a consensus with the opposition rather than using their majority to force through legislation.
In addition to the Korea trade pact, US Congress passed free trade agreements with Colombia and Panama on Wednesday.