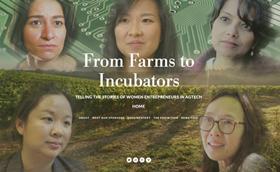 'From Farms to Incubators: Women Innovators in California AgTech' - a virtual exhibition and conference at the National Steinbeck Center in Salinas, California, is launching on 12 November.

The brainchild of Amy Wu, an award-winning journalist, the exhibition aims to use multimedia and digital storytelling to highlight the achievements of women who have shaped agriculture through technology, and inspire and encourage young women to consider careers in AgTech. The Exhibition is a companion to her forthcoming book From Farms to Incubators: Women Innovators Revolutionizing How Our Food Is Grown.

Wu produced an award-winning documentary that profiles some of the women entrepreneurs in AgTech. The initiative has been highlighted in Worth Media, Techonomy Media, at the EcoFarm Conference and the Forbes AgTech Summit. It is also a member of Women & Worth, Techonomy, AgStart and Women in Technology International (WITI).

"I hope my work serves to inspire the next generation, just as the previous generation of women inspired my work and this exhibition,' Wu said.

The virtual exhibition kicks off Thursday, November 12 and will feature speakers including California Senator Anna Caballero and Karen Caplan, president and CEO of Frieda's Specialty Produce, as well as a panel discussion led by women innovators in agriculture and Ag tech.