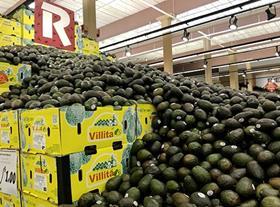 A store in Thibodaux, in the US state of Louisiana, has built what is believed to be the world's biggest avocado display in a bid to enter the Guinness Book of World Records.
Rouses Markets apparently shipped in a grand total of 112,000 avocados to build the display at its store on Tchoupitoulas Street on Wednesday, marking the start of a four-day 'Avocado Fest'.
The celebration included in-store tastings, with chefs preparing a series of special avocado-based recipes.
The record attempt itself took months to organise and 20 hours to assemble the avocado mountain, according to the Avocado Fest Facebook page.
"We've been having meetings for about two months to kind of coordinate everything between the grower, the shipper and all that. It took about two, three months," Rouses producer buyer Kevin Cazeaux told the Uptown Messenger.
All of the avocados used in the display were the Hass variety and are understood to have been imported from Mexico.
Hungry for more
The US has seen notable growth in the volume of imported avocados in recent years. Last year,according to figures published by ITC, it imported a total of 1.04m tonnes worth US$2.45bn– around 14 per cent more than it spent in 2014.
The vast majority, around 904,000 tonnes, came from Mexico, earning the country's avocado export industry just under US$2.14bn in return.
However, Mexico's avocado exporters have seen more growth outside of the US in the past five years.
ITC data includes some notable increases in shipments to Europe and Asia, with import values between 2014 and 2018 rising 363 per cent to US$31.6m in Singapore, 230 per cent to US$9.9m in the UK and 105 per cent to US$42.8m in the Netherlands.