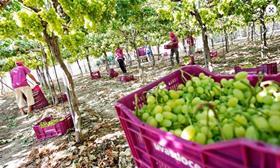 Spanish table grape producer Uvasdoce is ramping up investments in new red and white seedless varieties that are set to boost its annual output by 20 per cent over the next five years.
The Alicante-based company, which celebrates the 20th anniversary of its well-known brand this year, recently added 20ha of production at its La Gloria farm and is due to harvest its first crop from its new farm, El Pedregal, next year.
The new farms will allow the company to bring forward the start of its harvest by around two week.
Other investments include an upgrade of its packing facility to improve common areas for workers and add a new warehouse and extra office space.
Like other suppliers, the company reported a rise in orders at the start of the coronavirus pandemic as the wave of panic buying spread through Spain.
But April and May saw the usual decrease in demand as other seasonal fruits like cherries and stonefruit enter the market, although Uvasdoce said the decline had been somewhat more pronounced this year.