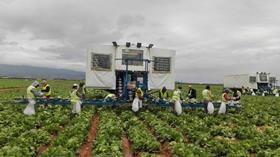 Spanish fruit and vegetable exports grew 7.7 per cent in value last year to €14.594bn according to the full-year figures released today by Fepex. Export volume fell 2.8 per cent to 13m tonnes.
Vegetables exports reached €6.022bn, an increase of 4.6 per cent compared with 2019. This was equivalent to 5.6m tonnes.
Peppers led the charge with 845,359 tonnes (+2 per cent), with a value of €1.158bn (+4 per cent). They were followed by lettuce, which weighed in at 766,384 tonnes (+0.7 per cent) and €644m (+7 per cent). Tomatoes, in third place, fell 5 per cent in volume to 728,809 tonnes but saw a 1 per cent increase in value to €934m.
Fruit exports in 2020 stood at €8.572bn, an increase of 10 per cent on 2019, although volumes fell 5 per cent to 7.4m tonnes.
Peaches and nectarine exports grew by 8 per cent and 13 per cent respectively in value, totalling €397m and €451m. This was in spite of volumes falling sharply, by 19 per cent in the case of peaches and 23 per cent in the case of nectarines. Cherry exports fell 30 per cent in both volume and value to 20,193 tonnes and €64m.
In berries, strawberry exports dipped by 1.4 per cent in value and 2.2 per cent in volume to €586m and 286,852 tonnes, while blueberries climbed 12 per cent in value to €378m but fell 3 per cent in volume to 66,103 tonnes. Raspberry exports fell 14 per cent in volume but remained unchanged in value at €429m.
Watermelons and melons grew by 7 per cent and 1 per cent respectively in value to €444m and €321m.
By destination, the European Union was the destination of 93.5 per cent of exports.
Imports continued to increase in 2020, climbing 3.5 per cent in volume and 6 per cent in value to 3.4m tonnes and €3.118bn.
Fepex said the data reflected the sector's strong reliance on exports and in particular the European market.
It also showed a decline in key products such as tomatoes due to the growth in EU imports from third countries whose production seasons overlap with Spain's.