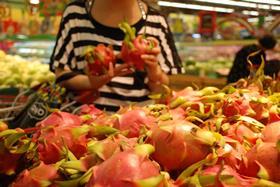 Vietnam's fresh produce export turnover hit US$1.3bn in the first nine months of this year, with a trade surplus of about US$882m,reports Saigon-gpdaily (SGGP).
Vietnam's fruit and vegetable export association, which released the figures, said this represented a 116 per cent rise over the prior year period.
The association attributes the rise to an expansion in production area under VietGap standards, which has boosted exports of fruits and vegetables to exigent markets like the US, Australia, Japan, and countries in the EU, it said.
Vietnam's Ministry of Industry and Trade has set the national fruit and vegetable export target at US$1.65bn this year, up from US$1.5bn last year, but experts believe texports will possibly hit US$2bn this year, SGGP said.
Vietnam exports its fruits and vegetables to some 40 countries around the world, of which ten major import markets include China, Japan, South Korea, the US, Malaysia, and Thailand, the report said.
China remains the largest market with imports accounting for up to 64.2 per cent of Vietnam's total fruits and vegetables export turnover, it said.
Vietnam mainly exports mangoes, dragonfruits, bananas and rambutans to China. Japan and South Korea are Vietnam's second and third largest markets respectively.