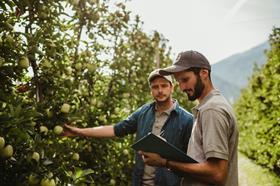 For VIP, the Val Venosta Cooperatives Association, highest product quality comes first. VIP can be an excellent apple partner for clients all over the world, by combining the highest product quality with excellent service and sustainable production.
Apple cultivation has a long tradition in the Val Venosta Apple Paradise. The work of our producers has always been characterised by respect for nature and people, and by a willingness to improve and to meet market requirements. VIP, the Val Venosta Cooperatives Association, unites 1,600 fruit producers and is one of the most important apple producer organizations in Italy and Europe. Furthermore, VIP has established itself as the leader in organic apples in Europe in terms of both quantity and quality.
Best natural conditions
Val Venosta's small-scale agricultural areas are situated at altitudes between 500m and 1km above sea level. They offer the best natural conditions to produce high-quality apples. Thanks to its plentiful sunshine, scarce precipitation and a broad temperature range between day and night, Val Venosta's apples can ripen under optimum climatic conditions. In Val Venosta, about 5,300ha are dedicated to the cultivation of apples from both integrated and organic production. Every year, about 320,000 tonnes of apples are harvested in Val Venosta, 50,000 tonnes of which are organic apples. Val Venosta's 280 organic producers comply with the strict directives of the Bioland or Demeter associations that go far beyond the European standards for organic production.
Nature, tradition and innovation in harmony
In Val Venosta, the philosophy of sustainability meets forward-looking technology. Agricultural tradition goes along with a willingness to adapt to progress. VIP and its producers don't shy away from innovation. Quite the contrary. This is why all Val Venosta apples are processed according to the FIFO principle in innovative packhouses with high-bay warehouses that are among the most modern facilities in Europe. Strict controls in every production – phase from production to delivery – guarantee the highest quality. State-of-the-art technology enables gentle sorting and storage of the apples. Sustainable packaging solutions are used for the secure and faultless transport of the apples to clients all over the world. VIP and its 900 employees can thus guarantee first-class product quality and can very flexibly react to different customer needs.
Excellent service guaranteed
Varietal assortment is very important to VIP and its producers. As an apple producer organization, VIP not only meets the different wishes of its clients but also offers a varied assortment in line with the market – one that ranges from classic apple varieties to new club varieties. VIP is able to supply its clients and distribution partners with high-quality apples from both integrated and organic production all around the year. VIP's business partners can count on an excellent service: highest reliability, delivery guarantee, and a flexible client service make VIP a first-class apple partner for customers all over the world. VIP's service, however, doesn't end at the shelf: VIP also offers sales promotion measures, effective advertising material, and attentive after-sales support.
Sustainability as a value
Striving for sustainability has always been one of VIP's core values, and this runs like a common thread through all areas. Being an innovative pioneer, VIP sets accents in sustainable production together with its producers and network partners: from natural production to the promotion of biodiversity and ecological packaging made of 100 per cent FSC-certified cardboard. And not only because it is increasingly becoming a trend, but because sustainability is the only thing that makes sense to VIP – for people and the environment, for today's and tomorrow's producers, clients and consumers.