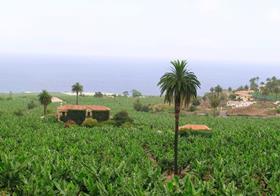 Lava from the Cumbre Vieja volcano on the Canary island of La Palma, which erupted last weekend, is threatening fruit and vegetable production, including the island's most important export crop, bananas.
Around 15 per cent of La Palma's 140,000-tonne annual banana production could be at risk if farmers are unable to access plantations and tend to their crops, Sergio Caceres, manager of producer's association Asprocan, told Reuters.
Caceres added that if lava pollutes the water supply it could potentially cause problems for months to come.
According to the Coordinator of Organisations of Farmers and Ranchers (COAG) if the lava continues to follow the path to the sea as predicted by the experts, 292ha of bananas, 60ha of vineyards and 92ha of avocados would be razed along with 18 livestock farms, causing losses of €20m.
The coastal region standing between the river of molten rock and the sea is one of the most important banana producing areas in the island.
Speaking to El Confidencial, COAG warned that burning ash could affect as many as 1,200ha of fruit production, leaving farmers being unable to sell their crop.
The association said the lava had already damaged some water pipes, making it harder for farmers to irrigate their crops.
Around 50 per cent of La Palma's GDP is generated by bananas, with more than 5,300 producers on the island and about 10,000 families depending directly on banana cultivation.
The 600 metre-wide lava flow has left a trail of devastation in its wake since the volcano erupted on Sunday. Scientists said its speed has slowed significantly, raising fears that the molten rock could fan out even more in the coming days rather than flowing directly into the sea.