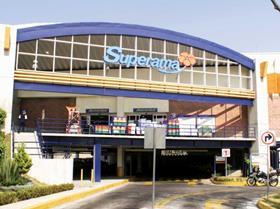 Wal-Mart de México (Walmex) is set to invest an 'unprecedented' P11.8bn (US$876.9m) this year to expand its network by 252 units and create over 14,500 direct jobs.
Of the 252 new units, 225 will be Bodega Aurrerá units, with 13 new Walmarts, 4 Superamas, 7 Sam's Club stores and 3 Surburbia stores – overall floor sales growth of 10 per cent.
'Today, more than ever, Mexican families need the savings that can help them improve the standard of living,' said Walmex CEO Eduardo Solórzano. 'During 2008, we managed to generate savings for our clients of more than P7.3bn (US$). Our 2009 investment plan will allow us to take the saving offers that characterise us to more rural and urban populations, providing them with a wide variety of good at everyday low prices.'
The investment, which represents an increase of 4 per cent on 2008, will see more direct jobs created than the 12,582 introduced last year as well as 25,000 indirect jobs.
'Also, with our 2009 investment plan we will continue developing growth opportunities for our more than 14,000 suppliers, 40 per cent of which are small and medium-sized businesses,' Mr Solórzano added.