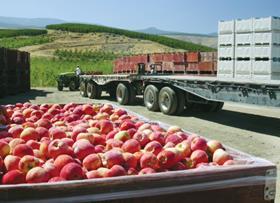 Washington state, which produces 65 per cent of the fresh apples grown in the US, has announced it is expecting a smaller crop yield this year.
With harvest almost 70 per cent complete, growers are observing a 10 per cent reduction in crop load on the trees compared to the original estimate released in August this year.
The first forecast released by the Washington State Tree Fruit Association on 1 August predicted a 134m carton (18kg) crop based on grower estimates.
At the Washington Apple Commission (WAC) board of directors virtual meeting held on 8 October, industry members discussed the progress of the crop and contributing factors to the lower volume.
One of the major factors contributing to a smaller crop was due to it being an alternate bearing season, reducing the number of apples per tree.
Weather, including a recent windstorm, and more selective sort-picking happening in the orchard, as growers work to improve pack outs in the warehouse, has also impacted total volume.
"It is the growing consensus that the 2020 apple crop will be lower than earlier published estimates," said James Foreman, chairman for the WAC board of directors. "This can be attributed to both a reduction in the quantity of bulk bins harvested, as well as lower conversion yields to packed boxes."
The smaller sized fruit, meanwhile, is region dependent.
According to the WAC, the apple category is experiencing an uptick in demand due to Covid-19 bringing health and nutrition to the forefront in the minds of consumers. As result, an increase in fruit and vegetable consumption.
The 1,260 apple growers in the state produce eight core varieties. These include Gala, Red Delicious, Fuji, Honeycrisp, Granny Smith, Cripps Pink, Golden Delicious and Cosmic Crisp.
Over 50 other 'club' or proprietary varieties are also grown in Washington. In addition to being the top producer of apples in the US, Washington represents 85 per cent of all US organic apple production.
Apples are the number one produced commodity in Washington and contribute US$3bn to the state's economy.
Enjoyed this free article from Asiafruit Magazine and its team of editors? Don't miss out on even more in-depth analysis, plus all the latest news from the fresh produce business. Subscribe now to Asiafruit Magazine.