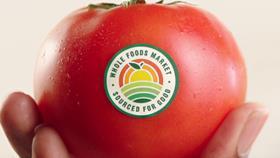 Whole Foods Market has launched Sourced for Good, an exclusive third-party-certification programme to enable customers to choose products that support workers, communities and the environment.
From this week, more than 100 products will carry a special "Whole Foods Market – Sourced for Good" label, including various vegetables, seafood and flowers.
The programme includes products certified by internationally recognised organisations such as Fair Trade USA, the Rainforest Alliance, Fairtrade America, the Fair Food Program and the Equitable Food Initiative.
The initiative comes in response to research showing that 81 per cent of Americans would like a way to easily identify responsibly sourced products.
The retailer said more products would be added going forward, allowing the programme to benefit more farms and producers, workers and their communities.
"Our Sourced for Good products not only are good, they do good," said Karen Christensen, senior vice president of merchandising for perishables at Whole Foods.
"Our commitment to equitable trade has funded numerous community projects, from dental clinics to housing facilities to student scholarships to bird sanctuaries. By purchasing select products, customers help us in our goal to make a difference."
Whole Foods Market operates 502 stores in the US, 14 in Canada and seven in the UK.