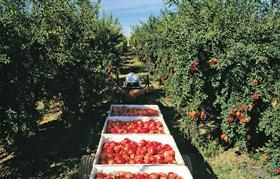 The Wonderful Company has offered up to US$1m in funding to any innovators that can develop sustainable solutions for the food waste created by its pomegranates.
The company behind the POM Wonderful pomegranate brand launched Wonderful Innovation Challenge to support potential solutions for the 50,000 tonnes of pomegranate husks generated each year by juicing its fruit.
ReFED, a US non-profit working to end food loss and waste across the food system, will serve as a strategic advisor and managing partner for the challenge.
Steve Swartz, vice president of strategy at The Wonderful Company, said this challenge was part of the company's efforts investment in environmental sustainability and fighting climate change.
'The Wonderful Innovation Challenge was born out of our mission to continually push the boundaries of sustainability by embracing bold, innovative ideas,' Swartz said.
"This competition will provide a select group of winners the resources they need to grow their business, make a positive impact, and help us fulfill our environmental mission.'
Alexandria Coari, director of capital and innovation of ReFED, said the challenge could deliver a number of positive outcomes.
'Innovation can play a critical role in driving efficiency and value, as well as in addressing environmental challenges. The Wonderful Innovation Challenge is a call for inventive solutions that can create value from this byproduct,' saidAlexandria Coari.