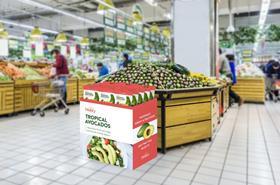 WP Produce is eager to encourage consumption of its Desbry tropical avocados in the US. It is rolling out a comprehensive, value-added merchandising programme which includes offering retailer's signage, recipe tear pads, and attention-grabbing display bins that will educate shoppers on the distinctive fruit.
Grown in the Dominican Republic, Desbry tropical avocados hit peak season Mid-February through Mid-March.
Chris Gonzalez, vice president of sales at WP Produce, said while the fruit is good year-round, it's tasting "incredible" at the moment.
'Sweet and creamy, but not heavy; consumers and chefs are loving them," said Gonzalez.
"My family has enjoyed Tropical Avocados as part of our meals for generations, and here in Florida everyone eats them. It's exciting now to hear positive feedback from avocado-lovers in California, Nevada, Texas, and other western regions. It's my passion to introduce this fruit to as many people as I can."
The tropical avocados are reportedly growing in popularity in the US market due to their vibrant colour and larger size. Desbry avocados are up to three times larger than traditional Hass avocados, and remain fresher for longer after being cut.
'Tropical Avocados are best for slicing and dicing and are perfect by themselves and as an ingredient in salads, sandwiches, wraps, soups, ceviche, smoothies, and of course, avocado toast,' explained Karen Nardozza, president and chief executive of Moxxy Marketing.
Moxxy helped rebrand the fruit, formerly known as green skin, and has been working with WP Produce to expand the market for tropical avocados in the US.