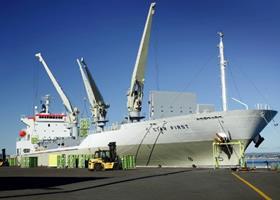 Oslo-listed shipping group Star Reefers has reported on a difficult 2009, during which total net income fell 60 per cent year-on-year to US$16.2m (€11.9m), down from US$42.4m (€31.1m) in 2008.
Earnings before interest, taxation, depreciation and amortisation (EBITDA) fell from US$62.7m (€46m) to US$41.6m (€30.5m) last year, with revenues slumping from US$212.7m (€156m) in 2008 to US$205.5m (€150.7m).
According to the group's financial statement, the lower results were attributed to a number of factors, including the bankruptcy of Russian group Sunway.
'Sunway had five vessels on long-term charter from Star Reefers,' the group said. 'Following its bankruptcy, the vessels were redelivered to Star Reefers which then had to deploy the vessels in the weak spot market experienced in 2009. This had a significant negative effect on Star Reefers' earnings in 2009.'
During 2009, four newbuildings were delivered to Star Reefers under 10-year charter contracts, while the group also entered into a contract with a subsidiary of Fresh del Monte Produce to charter-out four of its new reefer vessels.
'The company's strategy is to secure long-term reefer tonnage to maintain its position as a leading specialist reefer operator and to provide customers with high-quality service,' the group statement continued. 'Star Reefers now controls a fleet of 46 vessels with a capacity of 24.9m cubic feet.'
Looking ahead, the group said that the market for specialised reefers had this year started at lower levels than expected, with the container industry expected to target the reefer market and offer services at 'unsustainably low rates'.
However, there had been some positive developments, such as the end of the so-called 'banana wars' between the EU and Latin American banana exporting nations - seen as a positive move for specialised reefers.