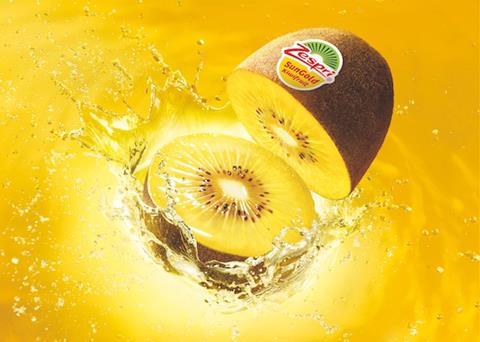 International marketer Zespri has revealed it is planting its new G3 variety in Spain and Portugal as part of efforts to re-establish an international supply base for golden-fleshed kiwifruit, following the recent decimation of another propietary variety, Hort16A, at the hands of the devastating vine disease Psa.
The group's attempts to develop a market for Hort16A under the Zespri Gold brand practically ground to a halt over the past three years as the variety succumbed to Psa outbreaks in its two major producing countries, New Zealand and Italy.
So the news that volumes of G3 could soon overtake the levels achieved with Hort16A prior to those outbreaks suggest a remarkable recovery is almost complete.
While the areas planted in the Iberian Peninsula remain small for the time being and will produce only a fraction of the volume set to be available from Zespri's other European production areas – mainly in Italy but also in France, the company's general manager for Europe Bert Barmans confirmed it had extended its supply base in order to offer potential opportunities to expand in future.
"We will be doing some planting in northern Galicia and in the north of Portugal," he revealed in an interview published by Eurofruit in its October issue. "The driving force behind this is to ensure we have good production and that we spread the risk. The volumes we're talking about on the Iberian Peninsula are relatively limited, but if it works then this is something that could grow."
The rise of SunGold out of the ashes of Hort16A has presented Zespri with a golden opportunity to make up for lost time over the next few years. Before Psa struck in 2010, demand for Gold significantly exceeded supply and the only real challenge was producing enough to meet that growing call for fruit; but the dramatic onset of the disease, to which Hort16A was especially susceptible, forced the marketer and its grower members to dig deep into their reserves – a fair amount of patience, funding and, crucially, scientific research was required to come up with a new, more Psa-tolerant cultivar that would offer the required yield and volume.
Zespri's SunGold production out of New Zealand was something in the order of 10m trays this year, but as a result of new plantings this figure is expected to increase to around 25m trays in 2015. Worldwide, the figure should be around 30m trays in 2015.
Drawing on new production in Europe – mainly in Italy but also in France, Spain and Portugal – the group is also on course to exceed its previous achievements with Gold and establish 12-month supply of SunGold over the next couple of years. By 2016 at the latest, Europe's SunGold crop is expected to be around 7m trays.
"European production of SunGold is looking very good," explained Barmans (pictured left with Zespri's president of sales and marketing Dan Mathieson). "In about two years from now, we expect it will be closer to 12-month supply than we were with Hort16A prior to Psa. That's mainly because it stores better, with indications that it can be stored for as much as two months longer."
An extended version of this article, including further information about Zespri's plan to reshape the kiwifruit category in years to come, is published in the October 2014 issue of Eurofruit. To obtain your copy, please email Ed Livingstone via ed@fruitnet.com or telephone +44 20 7501 0311.