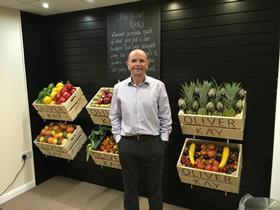 Stepping out of the shadow of an industry legend is never going to be easy, but Oliver Kay Produce believes it has found the right blend of heart, commitment and imagination to continue its recent growth spurt following the departure of its eponymous founder.
The Bolton-based catering and foodservice supplier was started 25 years ago by Oliver Kay, who remained heavily involved in the company throughout and beyond its sale to Bidfresh in 2012, when he continued to provide expertise and direction in his role as managing director until his departure at the end of 2016. Now, the company is aiming to build on those solid foundations, backed by investment from Bidfresh, as it becomes an ever more influential player in the catering-supply scene.
A key part of its ambitions centres around the recent construction of a 60,000 sq ft stockholding base in Birmingham, effectively doubling the company's capacity. As well as providing a strategically advantageous base to supply customers across the country, the £750,000 investment features everything from a staff canteen to training centre, and will give the company the flexibility to move product between sites and broaden its reach across the country.
Explaining the strategy for the new site, Ian Stuart, managing director of produce at Bidfresh, says it's part of a plan of steady, considered growth. "We took the keys last July and picked our first orders last week, but it is a soft launch so customers have seen no difference," he says. "We have a seven-phase plan of moving into the new site, and at the heart of the plan is to ensure customers and quality are not impacted. We were in a position where we couldn't really grow the business much more out of one warehouse without overtrading the product and becoming inefficient, and the danger with produce is you over handle and quality can suffer. So we had two choices – go for a bigger depot in the Bolton area, or find an additional site that worked for us, and we chose the latter."
The investment comes at a time of phenomenal growth for the business, which has seen turnover double from the £28.1 million recorded in the 13 months to 31 October 2012 to an impressive £53.8m in the year to 30 June 2017.
Despite that rapid upward trajectory, however, Stuart is at pains to point out that it's all about steady progress, dismissing any temptation to predict a further doubling of sales on the back of the new facility. "I haven't set that ambition," he insists. "I don't think there's any reason why we couldn't be a £100m business in time, but the important thing to say is whatever we achieve it will be done by having product quality and customer service at its core. We have a clear vision of what an Oliver Kay customer looks like and the relationship we have with them, and if that gets us to £100m and beyond then great. We have a plan to have stock depots elsewhere other than Bolton and Birmingham, but it's all about retaining the customers we've got and adding others who want and need what we offer."
That's quite a handful already given the business serves in excess of 2,000 clients, everything from independent pubs to group customers and chains such as Revolution bars and the Manchester United and Liverpool football clubs. As well as the full range of fruit and veg, it also handles dairy, fine foods, bread, ambient and charcuterie. The business is one of three, alongside Campbell Brothers and R Noone & Son, that sit in Bidfresh's fresh produce division,
Stuart says many of Oliver Kay's ethics and standards live on following his departure, and he insists there are "absolutely no" plans to rename it now it's under the Bidfresh umbrella. "One of the big strengths of our business is the name and the brand," he stresses. "It's been built up over a long period and the vast majority of people who have dealt with Oliver Kay have had a very good experience. There's no need to change that. We just need to help it, grow it and enhance it."
Stuart, who joined the business 18 months ago from Brakes, spent eight weeks with Kay when he arrived, learning about the business, its culture and ethos. So what has changed since Kay's departure? Aside from Bidfresh's investment – which also includes the construction of a state-of-the-art development kitchen in Bolton – he points to the opportunity the new ownership has given to longstanding staff to have even more input in the running of the business. "Everything went through Oliver, but the team around him did a lot of the work too and went to him with what the answers should be. So when he left, that left a vacuum, but we were very fortunate because there are people here who are experts in fresh produce, who have been with the company a long time and feel a strong connection with it."
And Stuart believes Oliver Kay would be proud of the business that still carries his name. With a reputation built on greengrocery, it's a national business with a local service, still flexible enough to deal with last-minute customer requests.
The philosophy is very much one of putting the customer first, he adds – but not to the extent of necessarily being the lowest-cost supplier, as quality is untouchable. "We've done a lot of work on our offer, and how we engage with customers," he explains. "We want to remain a category expert, that's really core. We keep customers for a long time as they get what they need out of us. We will never be the cheapest supplier in the market, and nor should we, because of the quality of the produce we buy, how we buy it and where we buy from – direct from farms and long-term suppliers – and there's a price to pay for that. We give the best quality and service at the fairest possible price."
Further areas of growth will be focused on doing more in London – an aspect Bidfresh chief executive Stephen Oswald acknowledged was a weakness at last year's FPJ Live – as well as taking more advantage of opportunities in prepared produce. The company's not ruling out acquisitions if the right business comes along, and there could also be further group buying efficiencies to be made.
Oliver Kay Produce currently sits just outside the FPJ Big 50 Companies, but if it keeps going at the same rate it won't be long before it breaks in for the first time. With a shiny new site and plans for further investment, you'd back it to do so sooner rather than later.