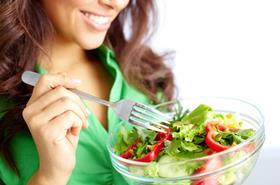 Nearly two-thirds of Brits have made positive changes to their diets over the past year, with a third including more fruit and vegetables.
That's according to a new survey commissioned by the British Nutrition Foundation, which indicates that 62 per cent of Britons have made a change to their diet to get healthier over the past year. Some 33 per cent stated that they have included more fruit and vegetables in their diets, 29 per cent started cooking healthier meals, and 32 per cent have been drinking more water.
The survey, which was conducted online by YouGov as part of the British Nutrition Foundation's Healthy Eating Week 2021, looked at the changes people have made to their diet and lifestyle over the last year of the pandemic.
The survey findings also found 57 per cent say they have made changes to cook more healthily since May 2020. Some 21 per cent found healthier recipes to make and 20 per cent used healthier cooking methods like baking instead of grilling and frying whenever possible.
Half the respondents mentioned starting a new activity to stay active, with 29 per cent starting walking regularly and 12 per cent starting exercising regularly in general.
Healthy Eating Week (14-18 June) encourages everyone to enhance their health and wellbeing and urges people to 'Find your healthier you'. It is supporting participants by sharing a range of free evidence-based resources and tools.
Roy Ballam, managing director and head of education at the British Nutrition Foundation, said: "We've all had such a challenging year, so it's really positive to see that so many people have made healthy changes to their diets and lifestyles. Healthy Eating Week is a chance for us all to reflect, see if there are changes we can make to support our health and to establish healthy habits to help us keep up the good work in the long term.
'There is no 'one size fits all' approach to a healthy diet and lifestyle - everyone is different, but the principles of healthy eating can be adapted to suit you. We have a whole range of free resources available as part of the week; from activity packs and videos, to trackers and cooking tips. I'd encourage everyone to visit our website to find something that works for you or your organisation, as well as sharing all of your great achievements on social media.'