Defra appoints agri-recruitment specialist Agri-HR as new seasonal worker scheme operator following government SAWS expansion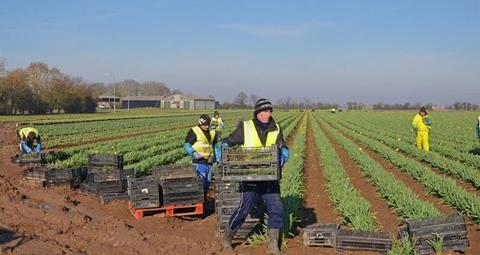 Agri-HR, a Hereford-based company specialising in recruitment for the agricultural sector in the UK and Europe, has been appointed as a new government seasonal worker scheme operator (horticulture) from January 2023 following Defra's expansion of the SAWS scheme.
Agri-HR, established in 2019 by former S&A Produce group operations director Jan-Willem Naerebout, focuses on sourcing seasonal agricultural workers but also recruits skilled permanent staff, such as tractor drivers, mechanics, spray operators, crop husbandry and agronomists.
Back in 2021, the firm established recruitment hubs abroad to recruit Central Asian nationals for existing scheme operators. Since then, it has built a team of 18 recruitment staff based in the UK, Russia, Kazakhstan, Kyrgyzstan and Bulgaria.
Speaking to FPJ on Wednesday (18 January), Naerebout said he felt proud that Agri-HR had been appointed the new government approved operator for 2023. "We already recruited over 10,000 Central Asian people for the SAWS scheme over the last two years, and we have already started the third recruitment campaign for the 2023 season," he said.
"We only recruit people using our own teams, and this direct model ensures the highest levels of transparency and protection of workers. In addition, we aim to introduce a different approach with regards farm audits to protect workers whilst they are in the UK, and we are implementing a whistleblowing helpline which covers the period from initial recruitment to the end of the placement in the UK for the worker. We take our responsibility as an operator extremely seriously."
Naerebout added that Agri-HR has 34 years of combined operational and recruitment experience in soft fruit and other agricultural sectors, and understands how important labour is on every farm – large or small.
"Over the last few years our recruitment business has broken through cultural and technological barriers to enable true remote working, all over the world," he said. "This makes AGRI-HR one of the most competitive operators in the scheme."
In December the UK government announced an increase in the number of seasonal workers' visas for 2024, in a pre-Christmas boost for growers.
Defra confirmed that 45,000 visas would be available for the industry in 2024, up from 30,000 at the start of last year, allowing businesses to recruit foreign workers for up to six months through the Seasonal Worker Visa route.
There is also potential to increase by a further 10,000, depending on industry needs, and contingent on "sponsors and growers improving and abiding by worker welfare standards, including ensuring nworkers are guaranteed a minimum number of paid hours each week."
The first 4,000 visas will be made available to operators before Christmas, to enable daffodil growers to harvest at the start of the new year.
The government explained that it would be appointing new scheme operators to help with the efficient running of the visa route and to help safeguard worker welfare.
A new team will also focus on ensuring sponsors are abiding by workers' rights by improving training and processes for compliance inspectors. It will additionally create clear policies and guidance for robust action for scheme operators where workers are at risk of exploitation.