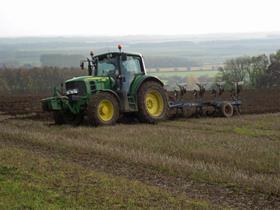 The agricultural sector has a "unique capacity" to help tackle climate change and feed a growing population, UK farming unions have said.
Speaking during this week's high-level climate talks in Paris, the NFU, NFU Scotland, NFU Cymru and UFU have called on the UK government and devolved administrations to acknowledge the key role of the food and farming sectors.
The group said farming is on the "frontline" of climate change impacts, as it is particularly vulnerable to extreme weather events.
"However, agriculture in the UK has significant potential to address the challenge of producing for the future as well as tackling climate change," a group statement said.
The group outlined several key asks including unlocking the "huge potential" of land-based renewable, including solar, wind, mini-hydro, anaerobic digestion and recognising the substantial diversification income opportunity from renewable energy.
They also want more research to ensure developments and breakthroughs become commercially viable and request that carbon accounting systems 'credit' the added mitigation benefits that agriculture can deliver, through carbon storage and renewable energy export.
"Agriculture is unique. It supplies food, stores carbon and generates renewable energy. Farming is on the frontline of climate change impacts, being particularly vulnerable to extreme weather events.
"Producing more with less is key; through more efficient use of inputs and reduced environmental impact, but there is no 'one size fits all' solution."
The group warned that farming needs a fair share of water and better protection of agricultural land from flooding, in order to give farmers the confidence to invest for an increasingly uncertain future.
The Paris Climate Talks, also known as COP21, are currently taking place in the French capital. It is the first time such a large number of world leaders have gathered in one place, with the aim to secure the first-ever legally binding emissions reduction plan.