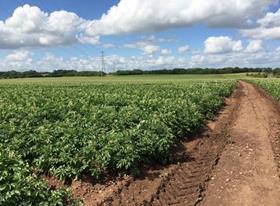 AHDB Potatoes is to host a range of events designed to help growers finetune their desiccation programmes following the loss of diquat.
Sales of the widely used desiccant stopped on 31 July, with a use-up period ending on 4 February next year.
The body said the ban on the broad-spectrum herbicide has had significant ramifications for multiple growers' desiccation strategies due to its common usage, and the limited alternatives available that are as effective and economical.
AHDB's Strategic Farm programme has been conducting national demonstration trials to investigate alternative desiccants and combinations of these that growers can use instead of diquat.
Last season it became apparent the EU Commission would be making the decision not to renew the approval of diquat. AHDB was able to act quickly, adjusting a herbicide trial on Strategic Potato (SPot) Farm North to include alternative desiccation strategies.
The results of the subsequent trial provided a useful insight as AHDB planned replicated multi-site trials across the country for 2019. The trials look at both chemical and mechanical options and focus on dealing with factors that can make desiccation challenging, such as heavy soils and indeterminate varieties.
This season's trials work is currently underway across four of AHDB's current strategic farms – SPot North, SPot South, SPot East and SPot West – with additional work being carried out in Scotland and Wales.
AHDB is hosting a number of desiccation events to give growers and agronomists the chance to see in-field replicated trials, the effects of available chemicals and flailing machinery.
The venues for the desiccation days are as follows:
-Strategic Potato Farm South, Somerset – 15 August
-Strategic Potato Farm North, N Lincs. – 29 August 2019
- Elveden Estate, Suffolk – event date TBC
- Strategic Potato Farm West, Shropshire – event date TBC
- Aberdeenshire – event date TBC