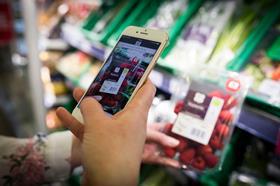 Berries must be a part of app-based and "algorithmic" shopping and eating trends to continue its growth said Rabobank analyst Cindy Van Rijswick.
Personalised nutrition is widely tipped to be one of the next big consumer trends, with technology such as DNA kits providing consumers with information on food types best suited for their health.
Van Rijswick opened her ten minute talk at the Headline Hub at the Global Berry Congress with a warning to companies to ensure they stay ahead of the trend.
"We expect in the future machines or algorithms will decide what we eat, just like Spotify decides what music we should listen to. The question is are berries in those algorithms? Because they are healthy and versatile and can be eaten throughout the day, but as a company take care that berries are really in the equation," Van Rijswick said.
"For retailers, who will also create apps and help consumers make decisions, berries are a really interesting category to push, berries really stand out as they combine a high price which makes it possible to make high margins, and they have a high volume so makes it interests for retailers."
Berries remain one of the most attractive categories according to Van Rijswick, with plenty of growth potential in one form or another. In the US, organic berries have proven a recent success story.
"The US market is becoming mature for berries, and in the last few years growth has been fairly static. But the organic market has grown 100 per cent in the past five years and they have outperformed total fresh fruit both in conventional and organic.
"In Asia, Eastern Europe and Western Europe, we also see blueberries stand out, and outperformed the total fruit market. Zooming in the Northern European market, these markets are also going strong. 2018 was a difficult market, availability was quite difficult because of the extreme weather in Europe, still the market has grown fairly strong, even in the UK which is also a mature market and in the last five years the market has nearly doubled.'
She added that blueberries can still gain further ground across Europe. "It's still below the penetration of other fresh fruits, for most fruits it's between 60-80 per cent and for blueberries, it's still below that, especially for raspberries and blackberries which are much lower so there's still potential to grow."
Van Rijswick said that as the scale of the industry is expanding and changing, production methods will continue to improve with robotics knocking at the door.
"The companies in the business are also changing fast, we see a lot of interest from private equity players in the business so ownership is starting to change, scale is increasing, companies are moving up and down the value chain, and there's internationalisation through joint partnerships. All these help development will speed up automation.
"We strongly believe that in a few years most of the labour will be replaced by machines, not in the short term, but in the medium to long term that will definitely be the case. Variety development will need to adapt to these machines and production systems have to adapt to machine labour."