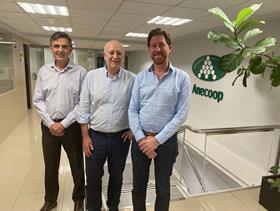 Spanish fresh produce co-op Anecoop has opened a UK office in Spalding so it can supply UK retailers more effectively post-Brexit.
The growers' cooperative, which is Europe's leading producer of citrus and persimmon, has been supplying the UK market through importers for the past 35 years but now it has decided to operate through its own base in the UK.

"With our new office you have a simplified and well-planned operation to overcome the additional complications around Brexit," explained Anecoop's managing director Joan Mir. "It is an exciting and unique time to showcase the best of our products, consolidate our relationship and expand our services with UK retailers."
The organisation added that being able to overcome the current delivery crisis in the UK by supplying direct and with consolidated vehicles over multiple products "presents a major offer to British customers in terms of competitiveness, service anddelivery within a unified, complete and seamless operation".
The move expands the Spanish cooperative's European network to eightcountries including France, the Netherlands and Poland.
Anecoop's range consists of more than 100 products, including melons, berries, stonefruit, flat peaches, nectarines, salads, vegetablesand exotics.
The business also offers a wide range of organic fruit and vegetables, as well as persimmon from its trademarked Kaki Rojo Brillante brand,with a forecast of over 130,000 tonnes for the upcoming season.
"Opening up in the UK allows us to be more collaborative and to have an integrated approach," added Scott Porter-Ward, Anecoop's commercial and marketing director for the UK.
"We can now demonstrate total transparency with a direct business model from farm to store, removing costs throughout the supply chain. We are equally able to use our size and scale to drive efficiencies and have a consistent supply throughout each season."
Founded in 1975, Anecoop has established itself as a leading Mediterranean fruit and vegetable producer, with an annual turnover exceeding €900 million and total annual production of 826,000 tonnes.
Last year the cooperative invested €1.2m in R&D and has a strong focus on sustainable agriculture, reducing its carbon footprint, limiting food miles through efficient logistics, and offering full product traceability.
The business also donated 333 tonnes of food to charities during the pandemic.