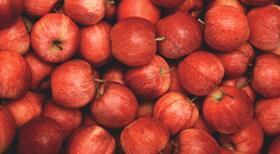 One apple contains over 100 million bacteria that help maintain a healthy gut and stave off illness, according to extensive new research.
The new study from Graz University of Technology, Austria, also revealed organic apples contained a more diverse microbiome suggesting it could be better for the human gut as well as the plant.
In their experiment researchers compared the bacteria in Austrian-grown Arlet variety apples, with four shop-bought non-organic ones analysed against four organic apples.
Research showed each part of the apple - the stem, peel, fruit pulp, seeds, and calyx - possessed "distinct bacterial communities", with the pulp and seeds containing the most.
The report states: "Organic and conventional apples are occupied by a similar quantity of microbiota; consuming the whole apple includes an approximate uptake of 100 million bacterial gene copy numbers. However, freshly harvested, organically managed apples harbor a significantly more diverse, more even and distinct microbiota, compared to conventional ones;
"Moreover, organic apples conceivably feature favourable health effects for the consumer, the host plant and the environment."
Sphingomonadales,Rhizobiales, Pseudomonadalesmay not sound appetising, but bacterial types such as these are increasingly recognised as playing a crucial role in the human microbiome, with a healthy gut seen as a potential way of staving off numerous chronic conditions and illnesses.
Studies such as these add evidence to the claim that a high consumption of fresh produce is also recognised as the best way to achieve a healthy gut.
Professor Gabriele Berg from Graz University of Technology, one of the authors of the research, said: "The bacteria, funghi and viruses in our food transiently colonise our gut. Cooking kills most of these, so raw fruit and veg are particularly important sources of gut microbes."
Speaking about the findings, Rob Percival, head of food and health policy at Soil Association, said: "This study adds to the strong body of evidence showing the potential health benefits of an organic diet. We know that organic fruit and veg contain higher levels of nutritionally desirable antioxidants, and we know that organic farming enhances microbial abundance and activity in soils.
"The study raises intriguing questions about the relation of soil health, plant health, and human health, but more research is needed to establish how microbial diversity contributes to the health of each."