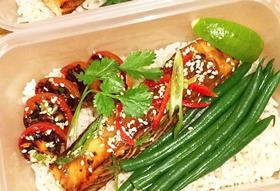 Star of The Apprentice Harrison Jones is set to launch a health food delivery service that offers nutritious and affordable meals prepared by Gordon Ramsay's former head sous chef.
The 'online meal prep' business, Equals Health, will deliver healthy, freshly prepared meals prepared by Vingaudas Raulinaitis, formerly a senior sous chef at Gordon Ramsay's Savoy Grill in London. These can be ordered online for their specific health benefits.
On the website customers will be able to check things like how many calories there are in each meal and how many they should be eating based on their age and sex if they want to lose weight.
Due to be up and running by June, following a star-studded launch party at the beginning of the month, the service is aimed at health-conscious, time-poor individuals, as well as schools, businesses and people in the fitness industry.
"We want to give people a healthy, affordable and convenient option when it comes to eating," said Jones, who made it to week 10 on The Apprentice last year after a spell in office equipment sales.
"There are a few other companies doing something similar, but they're very gym-oriented and we're not really going down that road," Jones said. "We want to give a healthy alternative to everyone."
Jones believes there is a gap in the market for his new venture since the idea of a healthy meal prep service "hasn't really been pushed much" and he is keen to tap into the growing health trend.
"We want to become the household name in healthy eating because I don't really think anyone's secured themselves in the market," he said. "We're focused on the branding and I think we've got quite a strong name in Equals Health."
The company's branding will be organised by a friend who has helped develop the branding for large retail chains, while Western International wholesaler WT Hill will supply fresh fruit and veg for the meals and fruit shakes.
These will be prepared at a kitchen in Charlton, South East London before being delivered to customers in chilled packaging.
The facility will have capacity to make 10,000-15,000 meals a month, Jones said, with the meals priced at around £5-5.50 for a portion of 500g.
The price point for smaller-sized children's meals will be slightly lower at around £3-3.50, and multiple meals will be delivered direct to schools, making transport costs viable.
The school meal deliveries will act as an alternative to packed lunches and school dinners, Jones explained, allowing parents to ensure their child eats a healthy lunch.
Although Jones is yet to secure a contract with a school, he has received positive feedback from his old secondary school, as well as two others in the north of England, with further meetings planned.
"We're trying to take dishes that are already popular with children and make them massively healthy," Jones said. "We're not planning on giving them food they've never heard of because they're not going to want to eat it.
"This is one side of the business that we're fully focussed on. I think it's going to huge."

For any enquiries contactHarrison.jones@equalshealth.co.ukor follow Equals Health on Instagram.