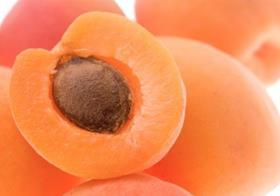 European apricot production for 2014 will reach 520,000 tonnes, a 13 per cent rise on 2013 but two per cent lower than the five-year average to 2012.
Italy will lead the way with 210,300t (up 11 per cent from 2013), followed by France with 160,500t (up 22 per cent). Spain will produce 87,900t (down 10 per cent) and Greece's forecast was pegged at 62,100t (up 47 per cent), according to forecasts announced yesterday (14 May) at Medfel, Perpignan.
Although most countries forecasted significant increases on 2013, with the exception of Spain, this represented a return to normal production rather than growth in the sector.
Eric Hostalnou, manager of Roussillon Chamber of Agriculture Fruit and Vegetable Division, said 2014 will not approach or break any records in apricot production. But he added: "Blossoming has been early and there has been lots of bee activity. Last year blossoming took a long time, but this year fruit will be ripe in July.
"There is still a lot to learn about apricots. Variety recommendations are essential, as they are not all suited to all terroirs."
The Spanish forecast for 2014 is 88,000t (10 per cent) less than last year, after a lack of cold weather led to a slight reduction in growing regions Murcia and Castilla La Mancha. Javier Basols, president of Cooperativas Agro-Alimentarias, said this year's Spanish production would only just reach average. "The Spanish market has seen a positive development in new regions. Northern regions will produce more in response to strong demand," he added.
Greece has predicted a return to normal production for 2014 after a mild winter, which will see production up by 47 per cent on 2013, but down by three per cent from the five-year average to 2012. A spokeperson for the country confirmed that the most dynamic growing region is the North, where there are increased plantings.
Italy, although up by 11 per cent on 2013, will fall eight per cent lower than its five-year average to 2012.
Elisa Macchi, from Consorzio Servizi Ortofrutticoli (CSO) de Ferarra, said Italy's apricot forecast is a return to average, but the country will not produce as much as in 2012. "Apricots are the most interesting crop. Nectarines are not as well paid, every year they give less money. The new varieties in apricot have developed well, which is what explains recent good results," she said.
France has forecast an increase in its five-year average production by three per cent, as well as a rise of 22 per cent from 2013. Sabine Alary, co-president of SIPMM apricots, said: "We can be optimistic but we have not yet reached maximum consumption levels."