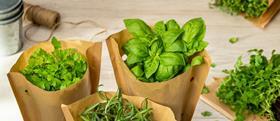 Asda will save 45.6 tonnes of plastic each year by replacing plastic herb packaging.
Britain's third largest supermarket announced it is ditching plastic pots and wrapping for a new sustainable container called a "plug'.
The plastic wrap will also be replaced by a paper sleeve to protect the herbs, meaning the entire product is plastic free.
Shamma Mohammed, category planning manager for produce said:"As a team we've worked really hard with the supplier to come up with this fantastic innovation, which will help significantly reduce plastic on our fresh produce, without affecting the quality of the product.
"It's really important to our customers and colleagues that we remove unnecessary plastic and this is just the latest in a number of initiatives across every part of the Asda business."
The move is part of Asda's goal to remove all unnecessary plastic from its operations, with 6,500 tonnes of plastic taken out of its own-brand packaging in the past 18 months.
It has also removed single-use carrier bags from both its stores and online orders, meaning that 375 million fewer bags will be produced a year.
The plastic-free range will be available for seven different herbs: rosemary, thyme, coriander, basil, mint flat parsley and curly parsley.