Firm unveils 'world's first' tractor-mounted sensor for precision orchard management, powered by AI and high-definition 3D computer vision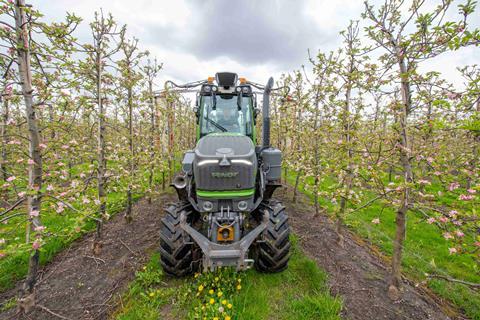 Aurea Imaging, a Netherlands-based crop intelligence provider for fruit growers, last week (29 June) announced the launch of TMS TreeScout – the world's first fully integrated tractor-mounted sensor (TMS) for precision orchard management.
Powered by AI and 3D computer vision, TMS TreeScout is designed to help farmers with tasks including tree scanning, blossom mapping and vigour scoring of trees. It enables them to increase fruit tree yields, boost revenues, lower input costs, reduce labour expenses, and safeguard the environment, Aurea Imaging said.

AI-powered TMS TreeScout is the first high-precision farming solution that gives fruit growers complete control over data collection, analysis and execution without the need of external services or third parties to help manage it, the firm said.
TreeScout works seamlessly with all major root pruners, sprayers and data platforms, enabling farmers to give each tree what it requires to thrive, while also saving on water, fertilizer and labour expenses.
Mounted on the grower's tractor, TreeScout contains a high-definition 3D computer vision system and edge computing processing capacity that integrates with existing RTK-GPS equipment. The TMS TreeScout scans the trees in high definition while driving through the orchard, spraying, spreading or mowing, and then collects and uploads data to the cloud. Once the data is analysed, farmers receive prescription maps with insights on individual trees, which enables growers to provide every tree with tailored care.
"We are on a mission to unlock the potential of every fruit tree," said Bert Rijk, CEO and founder of Aurea Imaging. "The TMS TreeScout reinvents orchard management and ensures farmers finally have a precision orchard solution that gives them full control of their orchards to maximize profits. Fruit growers who use TMS TreeScout will ultimately work more efficiently, reduce costs and time, and increase yield and productivity."
The TMS TreeScout was born out of the experience. Aurea Imaging founder Rijk grew up on a farm in the Netherlands and saw first-hand the problems farms had collecting actionable data to help their business. Most of the data collected was about entire farms, which offered farmers few avenues to improve since customized treatment is necessary for every tree. TreeScout addresses these challenges and helps farmers produce more food while also protecting the environment.
"The practicality of Aurea's actual integration with our orchard applications is exceptional and drove our decision to work with them," said James Simpson, managing director of Adrian Scripps Ltd, UK.
Founded in 2016, the Aurea Imaging team comes from a farming background that combines boots on the ground with machine learning, engineering and software.
Based in Utrecht, The Netherlands, Aurea Imaging is a privately held company backed by impact investor PYMWYMIC.