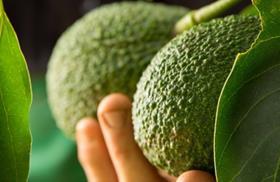 Avocados' nutritional benefits justify their water consumption, the World Avocado Organisation has claimed, hitting back at further media reports highlighting the fruit's irrigation requirements.
According to the superfood's global promotional body, no other food offers the same nutritional value per litre of water used to harvest it.
'For every 100g of avocado, the energy contribution is 167 kcal, 485 mg of potassium, 73.23 g of water, 52 mg of phosphorus, 29 mg of magnesium, 12 mg of calcium, in addition to vitamins A, C, E and K,' a spokesperson from the WAO said.
Comparing avocados to other foods, they added: 'If we take into account the tomato, the vegetable that needs the least amount of water for its production, the nutrients it provides are minimal compared to the avocado.
'Tomato production requires few water resources, but the energy contribution is not proportional. Rice provides more nutrients than tomatoes, but the amount of water it needs is high.
'The only food that provides many healthy nutrients to the body and consumes sustainable water levels is the avocado.'
Source: WAO
Source: WAO
The WAO stated that currently 600-700 litres of water are required to produce 1kg of avocados, and while this might seem high, it pales in comparison to the vast quantities needed for a range of other foods.
Figures compiled by the Institution for Mechanical Engineers and quoted by the WAO show that chocolate (17,196l), beef (15,415l) and sheep meat (10,412l) need the most irrigation of any food, while both bananas (790l) and apples (822l) both consume more water than avocados but give you less energy (90 kcal and 52 kcal per 100g respectively).
Source: IME/WAO
The WAO points out that the water consumption of avocados used to be higher, but thanks to technical improvements in irrigation and 'careful plant growth control', avocado producers around the world have managed to reduce the amount of water used in production by 300-400 litres per kilo over the past decade.
"The cultivation of avocado plantations has been made environmentally friendly thanks to the strong commitment to R&D made by the sector in recent years,' said WAO's chief executive Xavier Equihua.
'Not only are natural water resources used, which can come from both rain and meltwater from the Andes in Peru, but also efficient irrigation techniques and careful plant-growth control at all stages of the fruit's ripening have been used to provide the necessary amount of water at all times.'
The WAO added that a large proportion of the zones where avocados are grown, such as Colombia and Mexico, have high percentages of precipitation and do not require irrigation on plantations.
'The majority of commercial farms in South Africa use efficient irrigation systems, and in dry zones, farmers use unique techniques to water their crop,' a spokesperson said.
'For example, Israeli farms use desalinated water, and Peruvian farms irrigate with meltwater from the Andes. In fact, Peru works directly with Food Bank in a program dedicated to educating communities on how to sustainably farm avocados.'