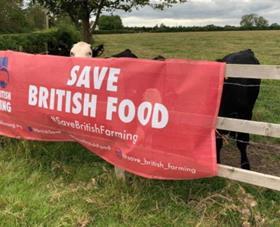 The Save British Farming (SBF) campaign group has unveiled new banners and posters urging the government to uphold the UK's high agricultural standards in the event of any trade deal.
The group of activists warns that the "opening of floodgates to lower-regulated food will lead to the decimation of British farming".
It wants to see homes across the country put up its banners and posters in their gardens and windows to help put pressure on the government as it negotiates post-Brexit free trade agreements.
There are concerns, for example, that a trade deal with the US could see British supermarkets stocking cheap produce, such as hormone-fed beer or chlorinated chicken, that is produced to low food safety and animal welfare standards.
Liz Webster, founder of Save British Farming, said: "There is hope if enough people fight for this. The overwhelming majority of the British public don't want to lower food standards.
"We all are what we eat and I don't want young children eating hormone-injected beef or chlorinated chicken.
"It's about the food on people's plates – it's not just about farms. We want to see these banners everywhere so that our MPs can see how passionately the British feel about their food."
Ministers such as Liz Truss have promised repeatedly not to undercut British food, environmental and animal welfare standards through a trade deal with the US.
However, in May the Agriculture Bill passed through the House of Lords without amendments designed to enshrine that promise into law.
In July, Save British Farming organised for a convoy of tractors to be driven to Parliament Square in London in protest against the Bill, and a larger nationwide tractor demonstration is planned for mid-September.
At the end of August peers, in the House of Lords expressed concerns about a reduction in standards and pushed for new guarantees to be enshrined in law.
It now appears that the government is facing a parliamentary battle with the Lords over the protection of UK farming standards. Lacking a majority in the Lords, the government could lose votes on certain amendments when the Bill is scrutinised further at the report stage following the summer recess. The government, however, argues that protections are already in place.
Farmers and members of the public can order SBF posters and banners from thecampaign group's website.