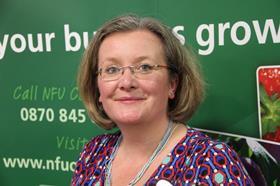 Industry body British Apples & Pears (BAPL) is confident of another outstanding crop this year, ready for retail shelves in time for the official launch of the British season on 4 October, according to operations director Sarah Calcutt.
Addressing a trade webinar today (14 May) on the 2021 deal, Calcutt said the BAPL campaign will this year have sustainability at the heart of its messaging, demonstrating to consumers how home-grown top fruit is the best choice for sustainability, and how growers really care about the future of the British countryside.
The campaign's sustainability message will draw on findings from BAPL's new Sustainability Report, produced by Professor Louise Manning of the Royal Agricultural University, and due to be launched in October 2021, Calcutt said.
The celebrity chef Raymond Blanc will return as a British Apples & Pears ambassador for a second year this season, Calcutt announced, and has committed to a three-year term.
Blanc will also be joined by popstar-turned-farmer JB Gill as a BAPL ambassador this year in a bid to further broaden its audience.
"JB is very social media savvy. We're going to let him take over our Instagram account for a bit, and he will be reporting from orchards, talking about the crop and to growers," said Calcutt. "BAPL ambassadors are carefully chosen to reach as broad demographic as possible, and they are picked for their credentials around British food and farming. Having names like Raymond and JB on the case will reach as many people as possible which of course is going to drive sales."
In a pre-recorded message for the web event, Blanc said: "I am so proud for the second year running to support British apples and pears. My mum taught me from a very young age that food is all about seasonality and being grown close to home."
As well as media drops in TV and print, and investments in 'dark advertising', the BAPL 2021 campaign will also include a live event with one of its ambassadors in an orchard, Calcutt said.
"Our campaigns as a whole help sell the crop, and we work really well with agency Spider who support us in our PR," said Calcutt. "Their work so far this year has delivered a 225 million reach. That represents an advertising value over £1m and a return on investment of 51 to 1. In 2020, our total campaign reached 870m consumers – an impressive figure that shows year-on-year increase, and delivered us an ROI of 31 to 1.
"An apple a day is the core of our message," she added. "That it's the best snack, portable, with overwhelming evidence that it's good for you. And now, this year, we can also demonstrate that it's good for UK environment too."
Calcutt said that it was too early to talk about the impact of the cold and frosty spring weather on the UK crop, but that BAPL would be in a much better position to discuss crop potential in June.
"We had a lovely winter: it was cold, which is always great for orchards, and we are planning on delivering exactly what the consumer is looking for: great tasting British apples and pears," she said.
Labour continues to be a challenge for British apple and pear growers, in particular the impact of wage increases on returns, Calcutt added.
The issue of a potential seasonal labour shortage was raised in a panel discussion, chaired by BBC Radio 4 Farming Today presenter Charlotte Smith, following Calcutt's presentation.
James Simpson, managing director of grower Adrian Scripps Limited, said securing seasonal labour this year is "going to be an incredible challenge".
He said low levels of local unemployment and limited rural connectivity meant recruiting local labour difficult. This, allied with the challenges posed by Brexit and Covid, was making securing seasonal labour very challenging in the south east.
Simpson added that apple packers in the south-east were losing seasonal workers to the hospitality sector as Covid restrictions eased.
"I know of four very large facilities that are continually running under-staffed," he said. "I think it's early days to say that we will find enough staff for this coming harvest. I think it will be a real challenge. We're seeing returnee numbers from overseas being 25-30 per cent below where we were a month ago. So, within the last month to six weeks, we've seen a significant drop off in the availability of labour.
"We think there will be so much of a challenge that we've invested significantly in semi-automated harvesting platforms where we can reduce our picking staff significantly and, not to put it mildly, we've invested a significant amount of capital in that this year to reduce our requirement for staff. I think that's the only way we can go, and that's capital replacing labour."
Adrian Cripps is also looking to export to the Indian market this coming season following the UK-India trade deal inked last week, Simpson added.
The company has successfully exported its 75mm fruit, which is difficult to sell in the UK, to the Middle East, and is now eyeing the Indian and Far East markets, he said.
But, he warned, it's a real challenge exporting overseas, and should not to be undertaken lightly.
"Grower-exporters need to be aware that they must export their best products, and not something that they just don't want to see again," Simpson said. "If you decide to export, you have to be in it, so you can't dip your toe in then step out. You have to offer your customer some continuity and consistency. So if you're in and you're in for several seasons and you have to make a go of it. We're investing heavily in it and working hard at it."
Calcutt said that BAPL had been in discussions with Defra and the Department and Trade with regards UK apple and pear exports to India.
"We don't have a huge amount of detail on it, but we do know the phytosanitary treatment we're coming down to actually is cold treatment, so we have a protocol which is actually easily implemented by exporters and there was a willingness to proceed," she said.
"Obviously the health situation India at the moment has stalled the discussions somewhat, but we do have a very regular dialogue with those that were in charge of the deal."
She added that BAPL is currently working on a pgi application for English Bramley apples.