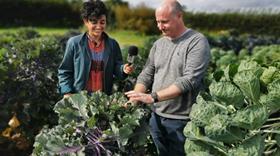 BBC Radio 4's The Food Programmehas dedicated a special edition to seed breeding and varietal innovation in fruit and veg, which aired on 31 October and is still available on BBC Sounds.
Addressing questions such as, where do new varieties come from; who invents them; and why do consumers need them, the programme's Leyla Kazim visited Tozer Seed's director of breeding Jamie Claxton, and spoke to Barfoots agronomist Emma Lilley, as well as Andrew Mellonie, senior agronomist at Marks and Spencer.
The programme highlighted new veg varieties Kalette, CauliShoots, as well as Cotton Candy grapes, and touched on the topic of gene-editing and new trends in seed breeding.
"[Gene-editing] is a process that's going to massively speed up the process of plant breeding," Claxton told Kazim on the programme. "It's not GMO (where other material is inserted into a plant's DNA), it's just gene editing, where specific genes are altered. It would be possible to add in things like drought tolerance, which could greatly help developing countries. So, it's not just about making quirky new kales, it's about feeding the world."
In terms of new fruit and veg varieties, Mellonie added: "There's some really exciting things coming.' New fruit and veg is without doubt an increasing trend, he says, with new breeding techniques making it quicker to breed than ever before. And what will we see more of? "Things that are convenient and easy to prepare," he suggested. "The sweet stem cauliflower's a good example." And we'll see more and more crossing varieties. "In stone fruit you can cross varieties to produce hybrids of apricots and plums and that's really exciting," he said.