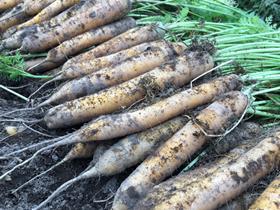 The British Carrot Growers Association (BCGA) Demonstration Day returns as an in-person event on 7 October 2021 and promises to be bigger and better than ever, its organisers say.
The show is to be hosted by Hobson Farming near the village of West Knapton, Malton, from 9am to 3pm, and sponsored by AHDB.
Demonstrations of the latest varieties from Seminis, BASF, Rijk Zwaan, Hazera, HM Clause, Elsoms/ Bejo and Agriseeds will take place at the event, and delegates will also have the chance to see BCGA volunteer potato trials that are also being held at the site.
'Several agronomy plots from Bayer and Microbial are sited at the field and will be available for delegates to see,' the BCGA said.
'The exhibition area tends to attract a great turnout from the supportive wider industry to provide a great interactive opportunity for those who attend.'
Delegate entry is free of charge and refreshments will be provided. The event is registered for both BASIS and NRoSO points which will be available on the day, BCGA said.
Registration for the event for delegates and exhibitors can be found on the BCGA website.