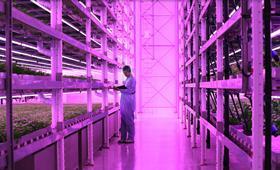 Berry Gardens is joining forces with vertical farming giant Jones Food Company to trial the vertical production of strawberries.
The pilot will be run at Jones Food Company's new R&D facility in Bristol, and if successful, it would extend Berry Gardens' British strawberry season to 12 months.
Despite recentbreakthroughs, the British berry season generally runs from March to November, but Berry Gardens said customers have expressed a significant interest in stocking vertically-grown strawberries, with the first crop likely in the winter of 2023.
Jones Food Company is currently building one of the world's largest vertical farms, on a site near Lydney in Gloucestershire. The company will look into growing Berry Gardens' premium strawberry varieties hydroponically, meaningthe berries will grow in water, without soil, with plants layered on top of each other in a series oftiers.
Growing fruit in this way brings considerable sustainability benefits as itremoves the need for pesticides, uses 95 per cent less water, and reduces food miles (by air and road).
Berry Gardens CEO Nick Allen said: "Ensuring quality supply for our customers and allowing consumers to have delicious, fresh, healthy, British strawberries on shelves year round are key priorities for us. The environmental impact is obviously really attractive too.
"Like most of the industry, we are actively looking for ways we can become more sustainable across our business and when technology offers realistic solutions, it is incumbent on us to pursue them with energy.
"What James and his team are doing already with herbs and salad leaves has proven the technology, and the advantages scale can bring, given their product is already selling into thousands of British stores every week."
JFC founder James Lloyd-Jones added: "Our food supply chain is under significant stress – and the rising costs of energy, fertiliser and our food are all regular and consistent stories – therefore vertical farming is undoubtedly a vital part of the UK's farming future.
"British agriculture has traditionally been limited by seasonality, but this collaboration looks to get us to a point where UK consumers can buy fresh, homegrown strawberries from major retailers throughout winter and year round. We know the demand is there, and we're working hard to make it a reality."