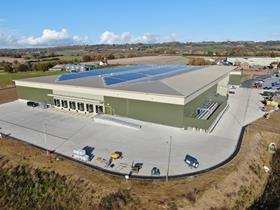 Berry Gardens has avoided over a million car miles' worth of carbon emissions thanks to a state-of-the-art solar array installed at its packhouse in October 2019.
The cooperative's head office and packing facility near Maidsone boasts 3,614 solar panels covering 6,143 square metres on the roof of the building. It is the biggest solar energy system of its kind.
To date the installation has allowed the company to save over 250 tonnes of carbon dioxide, equivalent to planting over 11,500 trees.
The £20m Berry Gardens packing and storage facility is one of the biggest soft fruit packhouses in the UK and it was designed with sustainability in mind. Berry Gardens' aim is for the development to one day be a fully sustainable and carbon neutral operation.
Other environmental features of the packhouse include zero waste to landfill; charging points for electric cars and HGV trailers; an energy-efficient refrigeration system; a living wall; thousands of trees planted on site grounds; a biodiversity site which aims to enhance wildlife habitat around the site; a recycling system; and an efficient waste management system.
In recognition of such measures, the facility gained ISO 14001:2015 Environment Management System certification.
Nick Allen, chief executive at Berry Gardens, said: "We are thrilled to have achieved this accreditation and to see that the environmental initiatives we have in place are having the positive impact we set out to achieve.
"This project was developed with the aim of the facility having as little impact on the environment as possible, whilst still supporting our business growth and ability to supply year-round soft fruit to our customers."
The location of the new facility, close to the previous Berry Gardens site, was chosen for its good transport links and close proximity to local growers. This allows fruit to be rapidly cooled soon after picking to maintain taste and quality.
Duncan Mills, supply chain director at Berry Gardens, said:"The location of the packhouse was of utmost importance to the business and board of directors to ensure our supply chain routes are as efficient and environmentally friendly as possible. It was vital for us to stay in a rural location rather than move to an industrial estate."
The Berry Gardens site measures 150m by 100m, with 160,000 sq ft of packhouse and 50,000 sq ft of mezzanine floor space.
Around 200 permanent employees work at the site, storing, packing and distributing around 60m punnets of soft fruit a year to major retailers, foodservice, wholesale markets and convenience outlets.