Sustainable berry business Tasker Partnership wins UK Grower of the Year at FPC Awards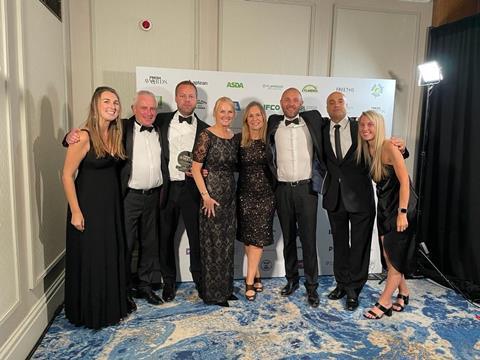 Tasker Partnership, a family-owned business that uses 100% green energy sources to grow berries, has been awarded UK Grower of the Year by the Fresh Produce Consortium (FPC)
Growing berries since 1995 and supplying BerryWorld for over 25 years, partners Stephen and Jenny Tasker said they were thrilled to receive UK Grower of the Year Award at the ceremony in London on Friday 16 September.
"As a family run farm, our philosophy has always been to provide the best quality berries by focussing on our people and our land. We're deeply honoured to receive this recognition and are so proud of our amazing team," said Stephen Tasker.
A young and dynamic team, led by husband and wife, Taskers are truly committed to grow in harmony with nature, using 100% green energy sources whilst constantly looking at ways to minimise their impact on the environment, BerryWorld said in a statement.
"Sustainability is centre to their operations and working to be carbon neutral has been a key part of their strategy," the group said. "They have also worked hard to achieve zero waste to landfill and to prevent food waste by donating under spec but delicious fruit through FareShare, tackling food waste whilst supporting those in need. In 2021 they provided the equivalent of over 117,600 meals."
Staff welfare is also a key priority for the Tasker Partnership team, BerryWorld added, providing exceptional on farm accommodation, as well as entertainment, social areas, and an on-site farm shop, allowing for strong cohesion amongst the team.
"Tasker Partnership is an inclusive business which advocates for women in fresh produce with Jenny Tasker herself being a partner of the farm and being involved in the day-to-day farm management from running the accounts, arranging a campfire party for the team, to walking the fields assessing the crops," BerryWorld said.