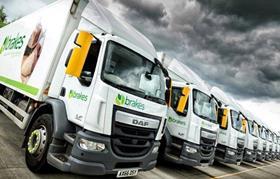 Brakes and Sysco Speciality Group have teamed up with #FairKitchens, a global movement fighting for a healthier and more sustainable hospitality industry.
The movement, co-founded by Unilever Food Solutions in 2018 to improve the wellbeing of hospitality and foodservice workers, now has more than 20,000 community members learning from each other and creating resilient businesses.
Under the scheme, resources and success stories are shared to help operators improve working environments, with the focus on fair pay, treatment and hours. The long-term ambition is to create a point of preference, with 'Fair Kitchens' recognised by potential team members as good places to work and by diners as assurance of a quality dining experience that doesn't compromise staff wellbeing.
Brakes and Sysco Speciality Group said that, like #FairKitchens, wellbeing is at the forefront of their values and is a key part of supporting their colleagues. Both companies, which are owned by foodservice giant Sysco, stressed they have a focus on supporting financial, physical and mental health, and are committed to raising awareness and educating colleagues, as well as delivering practical, accessible wellbeing tools for everyone.
Sysco is the parent company of Fresh Direct and a number of other fresh food suppliers to the foodservice sector.
Under the new partnership both companies will be sharing #FairKitchens resources and insights with their teams and customers to spread the word and help create a more positive working culture for the hospitality industry.
Kate Woodhouse, vice president of HR at Sysco International, said: "We believe in acting today to protect tomorrow. Sysco aims to support every community it engages with and with kitchen staff a vital part of our and our customers' businesses, joining forces with #FairKitchens was an obvious decision.
"Sharing #FairKitchens resources and insights with both our teams and our customers is part of our commitment to having a positive impact with our customers, in our communities and on society. As a business we are committed to integrity and mutual respect, as well as ensuring diverse, inclusive, authentic and honest voices are part of the conversation. Together with #FairKitchens, we hope to change the narrative of what it means to work in hospitality and write new stories for people across the world."