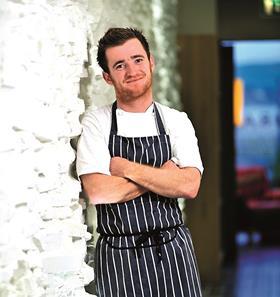 Potato supplier Branston has hired chef Jack Stein to promote the start of the Cornish potato season.
The UK-wide initiative will encourage consumers to appreciate seasonal new potatoes, in particular the Cornish season as the first UK mainland crop.
Son of fellow chef and television presenter Rick Stein, Jack is executive chef of the Rick Stein Restaurant Group, which employs 550 people across its 12 restaurants in the south and south west of England.
"Growing up in Cornwall, I am passionate about its produce and it seems ridiculous to say it now but I remember when my parents Rick and Jill opened their first restaurant in the 80s, they had no choice but to use seasonal produce because there simply was nothing else," said Stein.
"Now we have an enormous amount of choice in the ingredients we can use, but it's so important not to miss out on the wonderful flavours of truly seasonal produce available in the UK – the first asparagus, spring lamb, watercress – these are the things I look forward to as a chef but also as a consumer."
Stein has developed six new Cornish potato recipes to inspire British cooks to serve new potatoes while they're in season.
Branston sales and marketing director, George Christoudias, said: "Jack is a Cornish chef who is passionate about native seasonal produce and is the perfect partner to help raise the profile of Cornish potatoes and inspire people to cook with them."
Stein added: "I am delighted to be leading this campaign to encourage people to eat Cornish and hope that I can inspire people with my recipes."
Branston has also launched a Seasonal Spuds website, which promotes the current seasonal potato crop through recipes, grower videos, and social media.
Christoudias said: "Increased choice as well as diet trends has reduced the British public's love of potatoes over the years which is why we felt people needed to be reminded of their versatility, low cost and amazing nutritional benefits."