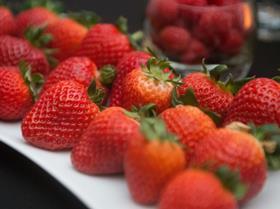 Growers have announced that the 2020 British strawberry season has begun.
Warmer and sunnier April weather has meant the season has started around a week earlier this year, with consumers now able to buy the berries online and in storesaround the country.
As well as the ideal snack to eat at home or in the garden, marketers are reminding the public that strawberries have health benefits with their high vitamin C content.
Dr Emma Derbyshire, British Summer Fruits' public health nutritionist, explained: 'Berries are a fantastic snack that offer numerous health benefits. Not only is the whole strawberry rich in antioxidants, but the red fleshy part is also abundant in vitamin C. In fact, eating just nine strawberries (108g) can provide all of your recommended daily vitamin C intake."
Despite the unique challenges of 2020, growers have expressed confidence that British berry sales will remain strong this year.
Nick Marston, chairman of British Summer Fruits, said: "Like most industries facing challenges during this unprecedented time, our growers have had to overcome their own issues to ensure our loved British berries are available to the UK public. We are sure that consumers will continue to choose fresh British berries as part of their shop to enjoy and stay healthy. And in doing so, they'll help to safeguard the future of our important British berry industry."