UK supermarkets see decline in volume sales during January, NielsenIQ shows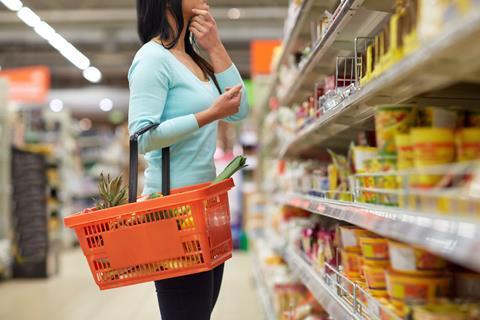 British shoppers are reining in grocery spend post-Christmas, new retail figures show.
UK supermarkets experienced a continued decline in volume sales during the four weeks ending 28 January 2023, reveals data released today (7 February) by NielsenIQ.
The new data shows that although Total Till grocery sales rose by 7.6 per cent in the last four week period, this was due to an increase in food price inflation, which reached new highs of 13.8 per cent in January.
This decline in shopper spend is reflected in the decrease in volume sales (-6.9 per cent). This is the lowest volume growth recorded in over nine months, and reflects the concern shoppers have about cost of living increases, NielsenIQ says.
UK supermarkets experienced a very slow first week of January due to the bank holidays but NielsenIQ data shows that weekly value growths improved to +6.0 per cent at the end of the month, which coincides with the first monthly payday of the year for many shoppers.
Nevertheless, many shoppers likely tried to shop to a fixed budget to save money and focussed on essentials, with bakery (+12.6 per cent), dairy (+11.5 per cent), pet food/care (+10.4 per cent) and frozen sales (+8.9 per cent) all experiencing an increase in value sales.
However, fresh produce value sales fell -3.6 per cent, while value sales for beers, wines and spirits (BWS) declined -4.7 per cent (with volumes -8.5 per cent). Volume sales for meat and poultry also fell 10 per cent.
NielsenIQ data also reveals that sales were strongest at bricks and mortar stores (+9.4 per cent) with a -8.7 per cent fall in online sales. The online share of all FMCG sales remains at around 11.1 per cent -– similar to the underlying share in the latter part of 2022.
In terms of retailer performance, the discounters continued to show strong momentum with sales growth of almost +20 per cent compared to the same time last year, with Lidl overtaking Morrisons with 12-week market share of 8.9 per cent and 8.3 per cent respectively.
NielsenIQ says its latest survey data now shows that 72 per cent of UK households fear they will be severely or moderately affected by the cost of living crisis in the first part of 2023, up from 54 per cent at the end of last year.
Mike Watkins, NielsenIQ's UK head of retailer and business insight, said: "We expect a challenging first quarter for the grocery industry, with inflation very much top of mind for shoppers. As a result, shoppers will continue to trade down to cheaper brands or private label products. In January we have seen private label sales grow in Household by +16.5 per cent, ambient grocery by +16.8 per cent and frozen by +20.2 per cent. Also, when consumers are cash poor, they also shop more frequently and across more retailers, because they can only afford to shop for groceries 'little and more often' to help manage household budgets. This will probably continue until Easter, when family gatherings and hopefully better weather gives a boost to sales."